A Comfortable Culinary Experience Under a Texlon® ETFE Roof
Stunning seaside views and a mixture of restaurants, retailers, and water sports makes The Beach an important tourist location in Dubai. Within the area, a new culinary temple with air conditioning opened its doors: the Pavilion at the Beach. Under a beautiful Texlon® ETFE roof guests can enjoy a fantastic variety of foods, from Italian to Japanese.
Step into Your Comfort Zone – Enjoy a Sand Free Dinner at the Beach
The space at The Beach was originally completely open to the elements. During the hot summers in Dubai, eating outside is seldomly enjoyable. Additionally, the sand and wind could make outside dining rather uncomfortable. To make the area more attractive, and a real destination, our client's vision was clear: providing a fully enclosed and conditioned space, where guest could enjoy the culinary experience in a comfortable environment.
Seaside Dining Reimagined with Texlon® ETFE
There are several reasons why a Texlon® ETFE system is the right choice for such a project. Firstly, with loads transferred into the existing structures, a new roof needed to be lightweight without compromising the design concept. ETFE is very light compared to other transparent cladding materials. Additionally, it offers unique design possibilities. In the case of this project, the client chose an aesthetic geometrical design. Thus, the roof is made up out of 32 ellipse shaped cushions, covering an area of 1,655 m².
Secondly, the space needed to be conditioned and protect guests from sun and heat. The Texlon® ETFE systems offers a range of printing possibilities to control the thermal performance. For the Pavilion at the Beach, a Dot Hexagon Print was chosen for the top foil. Printed foil helps to improve comfort levels inside the building and shields customers from heat and harmful UV-light. Further, our transparent system adds a pleasant outdoor feeling to a fully enclosed space. With its new roof the Pavilion fits in beautifully with the beachside area, while still providing sun-protection.
A bonus: our system has self-cleaning properties. In fact, our ETFE cushions are very smooth and have a low surface tension. Therefore, dirt does not adhere to our material as much as it does to other classic transparent materials.
Information
| | |
| --- | --- |
| Date | 2022 |
| Lieu | Dubai, United Arab Emirates |
| Secteur | Leisure |
| Taille | 1,655 m² |
| Structure | Steel |
| Type | Roof |
| Architectes | BSBG Brewer Smith Brewer Group |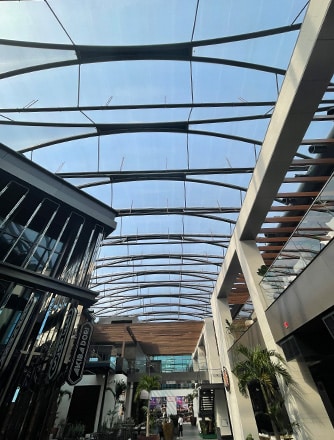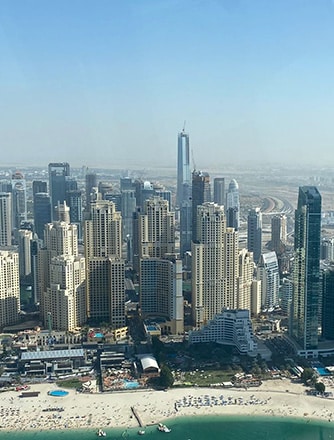 Images Copyright: Vector Foiltec
Practice Makes Perfect – Our Experience Is Your Success
For this project Vector Foiltec worked closely with all parties involved within this project. To transform The Pavilion on the Beach into a comfortable and culinary destination, our team supplied and installed the Texlon® ETFE system, as well as the steel structure. We have over 40 years of experience and have completed many projects in challenging climates.
You want to transform your project into a useable space all year round? Get in contact with our team here.