Dedicated Early Years Facility with Texlon® ETFE Canopies by Vector Foiltec
The Stamford American Early Learning Village is the brainchild of Stamford American International School and Australian International School, which opened in July 2017.
The Texlon® ETFE canopies were introduced early in the design stages to cover the outdoor play and learning areas, as well as the swimming pool. The ETFE canopies were essential to the design in an effort to shelter these spaces from the rain and heat, and provide UV protection for the children playing underneath them.
Vector Foiltec's Scope
Vector Foiltec's role was to design, supply and install 3,000 m2 of Texlon® ETFE. These canopies consist of two layers of ETFE with a print pattern on the outer layer of ETFE, so solar heat gain and light transmission are controlled. It also creates a unique individual appearance to the roof. Vector Foiltec also designed and engineered the steelwork, and handled the Government Submissions for the steelwork.
Involved Architects
Early Learning campus has been designed by leading architects with expert advice from environmental psychologists and early learning specialists. These specialists stressed the importance of outside play for the positive development of children. The Architects, Bogle Architects, are award winning Architects with offices in London, Prague and Hong Kong. The local Architects, A61, and the main-contractor, Lend Lease, are both located in Singapore.
Rethinking Architecture with Texlon® ETFE
Over 2,000 pre-school children and 400 support staff work, learn and play in the 50,000 m2 early learning center, which is separated into clusters in an attempt to minimize the overall complexity.
Rethinking architecture creates efficient learning spaces for the younger generation. Texlon® ETFE combines social, economic and environmental sustainability for the overall success of a learning environment.
Information
| | |
| --- | --- |
| Date | 2017 |
| Lieu | Singapore, Singapore |
| Secteur | Education |
| Taille | 3,000 m² |
| Structure | Steel |
| Type | Canopy |
| Architectes | Bogle Architects, A61 |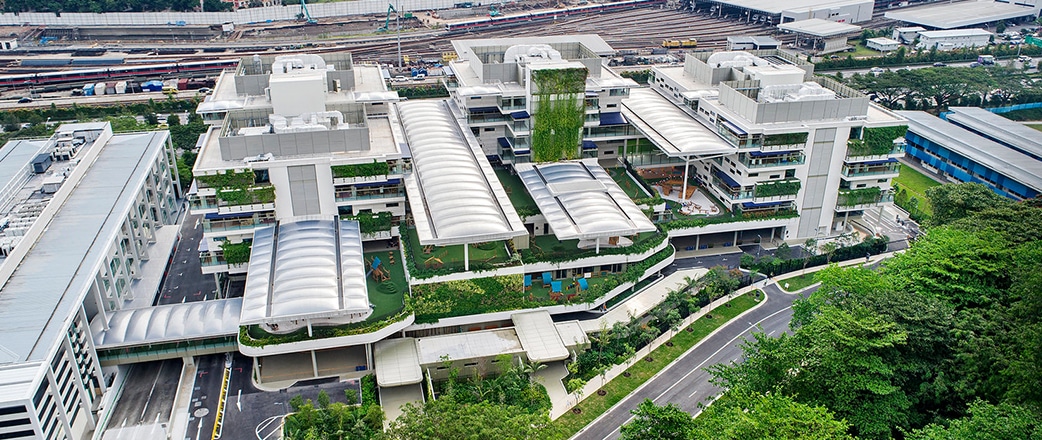 Images copyright: Bogle Architects