State-of-the-art Office Building With Texlon® ETFE in Hamburg
The state-of-the-art Unilever Headquarters for Germany, Austria, and Switzerland is situated directly on the River Elbe in Hamburg, Germany. Specifically, it is located in the harbor district of HafenCity and it is an example of great architecture. It was awarded the "Best Office Building in the World" at the World Architecture Festival 2009. Further, it is also one of the largest single-layered Texlon® ETFE facades in the world.
An Innovative Texlon® ETFE Facade
For the Unilever headquarters office building Vector Foiltec designed and installed an innovative facade with Texlon® ETFE. Individual Texlon® ETFE facade elements were placed in front of the insulating glass of the building to act as a screen to protect the daylight optimizing UV protection blinds from the elements. Meanwhile, the elements still enable ventilation to be controlled through individual windows.
Texlon® ETFE facade elements are also characterized by very high tear and puncture resistance, resistance to hail, and excellent transparency in visible light. In addition, the low-energy surface does not allow mold and bacteria to stick and a simple shower of rain is sufficient to clean this facade.
Ongoing History
In 2021, New Work SE, e.g. carries on the online business network Xing, moved into the building and those employees will continue to view through the Texlon® ETFE facade. The impressive history of this state-of-the-art building is still happening.
Information
| | |
| --- | --- |
| Date | 2009 |
| Lieu | Hamburg, Germany |
| Secteur | Offices |
| Taille | 6,454 m² |
| Structure | Steel |
| Type | Facade |
| Architectes | Behnisch Architekten |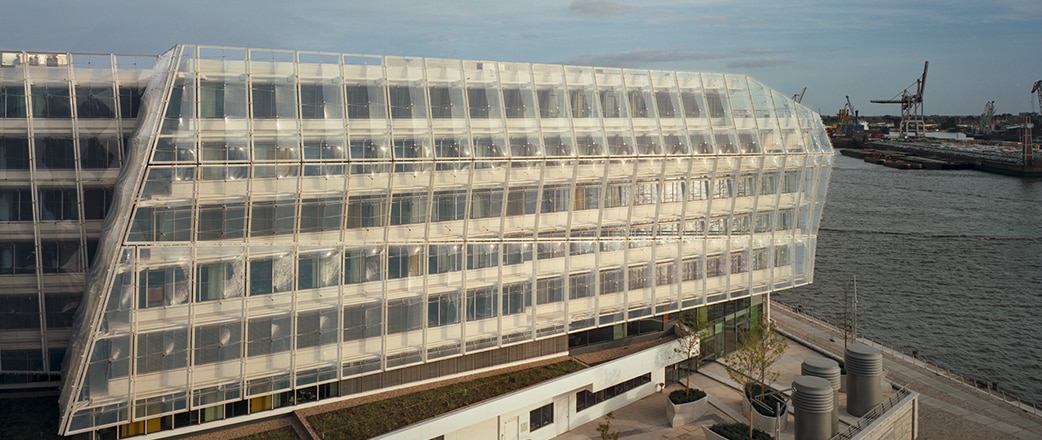 Top Image left to right © Andreas Braun, © Peter Eberts; Bottom images left to right © Peter Eberts, © Andreas Braun
Work With Us For Your Next Project!
As the global market leader in ETFE, with almost 40 years of experience behind us, we have succeeded in creating exceptional solutions across the globe. Our thinking outside of the box has provided highly unusual insights. We can grant solutions and help our clients in many ways. We love to develop by constantly challenging ourselves.
So, if you want the help of our "German engineering DNA" and create a state-of-the-art building – get in touch with us today!