Climate Control Strategies Design Options
The Aspen Vision City project currently stands as Malaysia's biggest ETFE project. It was designed with climate control strategies as focal point to ensure customer comfort. It features a state-of-the-art regional integrated shopping center. This was done in an effort to transform the Batu Kawan region of northern Malaysia into an iconic hub and cultural center. VERVÈA @ Aspen Vision City, has entered the Malaysia Book of Records (MBR) as the largest, and longest, ETFE canopy in the country. Furthermore, with a uniquely designed Texlon® ETFE canopy, 300 meters long and 40 meters wide. The canopy covers the bridges and connects the surrounding buildings of the Aspen Vision City, creating desired outdoor spaces without the heat and glare associated with the tropical weather.
Aspen Vision City and Climate Control Strategies
The Aspen Vision City was designed by Arkitek LLA Sdn. Bhd. Their vision went further than just another mall. The architects saw that beyond its retails shops, Aspen Vision City could become a place of leisure and source for unique customer experience. The architects envisioned a covered street for pedestrians to shop and congregate outdoors, which is uncommon for shop-lot developments in Malaysia due to the harsh climates. Therefore, it was important to consider climate control strategies that would shelter customers below. Moreover, by including a Texlon® ETFE canopy, the architects were able to maintain the desired outdoor-feel whilst being able to have solar control.
Texlon® ETFE and Solar Control Design Concepts
The Aspen Vision City Texlon® ETFE system is comprised of 2-layer, 12,500 m² Texlon® ETFE cushions. The cushions are installed beneath a stunningly undulating, light-weight, column-free steel structure. To achieve such a feat to build a column free Boulevard, Vector Foiltec aimed for a lightweight steel arch truss. This structure spans 40 meters across and runs 300 meters along the entire length of High Street.
The design of the steel structure, a part of Vector Foiltec's scope, has minimal bending as it meets the reinforced concrete columns. However, with its impressive 40 meter-span, it's a significant achievement that the entire steel structure weighs as little as 850 tons. In other words, this was possible only because of Vector Foiltec's astute value-engineering, which translated into huge savings for the developer. Not only did we design, but also fabricated, supplied and installed the steel work.
Beyond its form and solar control function, the Aspen Vision City Texlon® ETFE canopy is visually appealing. Texlon® ETFE is not only the smart solution for climate control strategies, but also complex architectural designs. ETFE is highly versatile, in colors, shapes and patterns. Consequently, allowing for the most unique designs to be executed with efficiency and bold eye-catching aesthetics.
Information
| | |
| --- | --- |
| Date | 2019 |
| Location | Batu Kawan, Penang, Malaysia |
| Sector | Retail |
| Size | 12,100 m² |
| Structure | Steel |
| Type | Canopy |
| Architects | Arkitek LLA Sdn.Bhd. |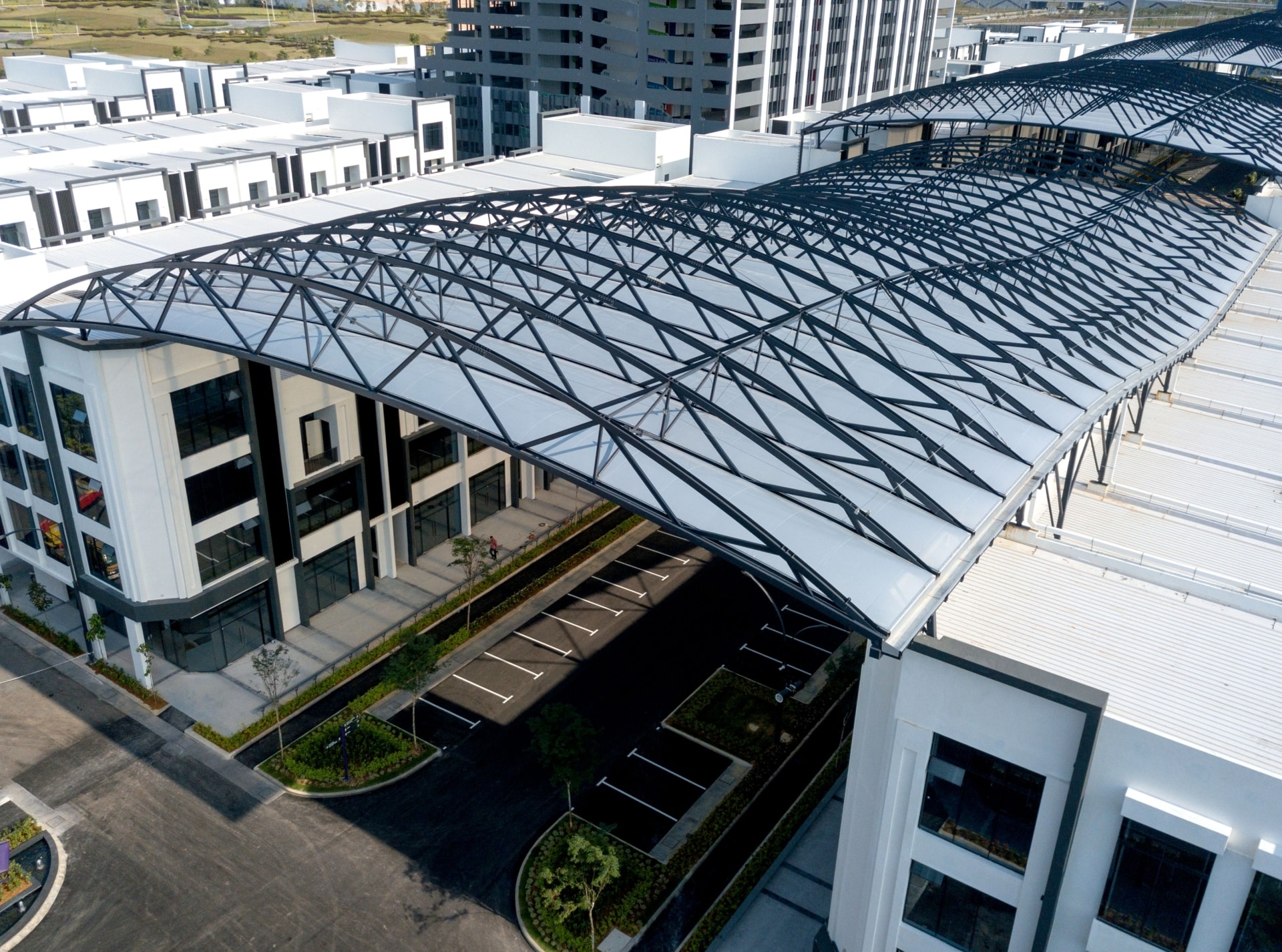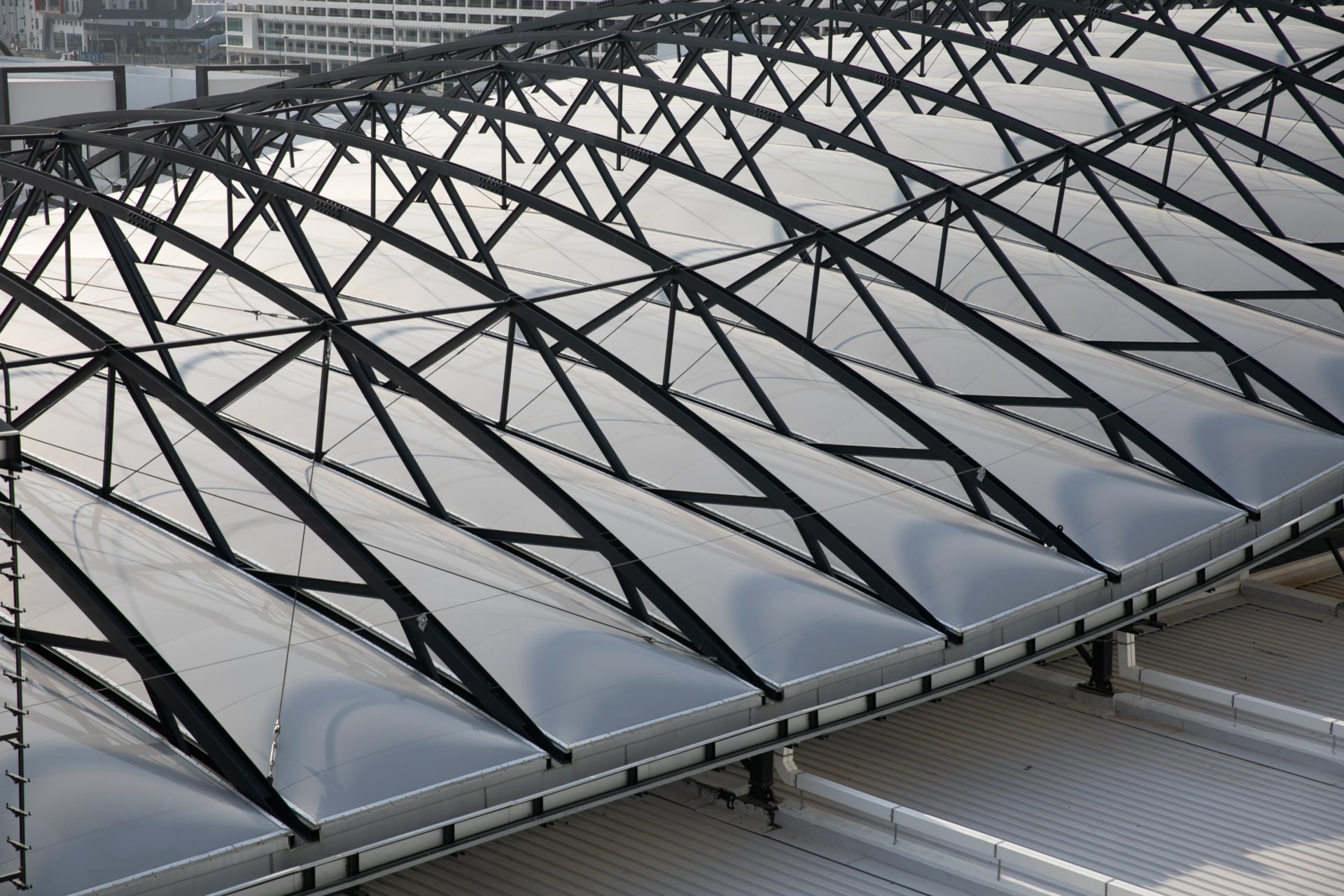 Image Copyrights : ©Aspen Group
Value Experience with Texlon® ETFE
Our Texlon® ETFE ensures optimal light transmission and high thermal performance. This is due to our ability to manipulate ETFE foil properties to best suit the clients desired project outcomes. Moreover, the ability to create sheltered outside spaces has the added value of comfort and leisure. Consequently, ensuring that clients below the canopy are at ease to loiter and congregate in groups while enjoying their day.
Furthermore, Vector Foiltec adopted a comprehensive approach to a ventilation strategy beneath the canopy. Working closely with ARUP for Computational Fluid Dynamics (CFD) on natural aeration and cooling. The team analyzed our calculations on thermal and optical properties for our various patented frits. Consequently, it was important to study the impact of different canopy geometries. Furthermore, to investigate various mechanical systems available in the market for removal of vehicle exhaust fumes. The end-result is a masterpiece. The High Street Canopy's geometric concept not only keeps with the architect's design language but also a ventilation solution.
Why Vector Foiltec?
As world market leader, Vector Foiltec has comprehensive understanding of Texlon® ETFE and all ETFE systems. Similarly, with our complete in-house team, Vector Foiltec offers the full range of services from Design, Engineering, Fabrication, Installation and Maintenance of all ETFE projects worldwide. Moreover, with two of the largest fabrication sites in the world, we are equipped for small and large-scale projects for all focuses. Our competent in-house teams are experts in understanding the needs and wants of the client and reaching those demands with efficiency worldwide.
Let us support your project, contact us here for ETFE system solutions.