First Texlon® ETFE Project in the United Kingdom
Chelsea and Westminster Hospital is one of the largest hospitals in Britain, with a 430 bed capacity, and over 70 departments and teaching facilities. Built in 1990, this is the oldest Texlon® ETFE project in the United Kingdom. It played a crucial role in Texlon® ETFE being accepted as a conventional building material around the world. It paved the way for buildings such as the Eden Project and National Aquatic Centre in Beijing.
Fire Behaviour of ETFE
A conclusive argument for using Texlon® ETFE in this project was – in addition to transparency and low weight – was the fire behavior of the material. ETFE foils are flame-retardant, self-extinguishing and do not drip while burning. Between 200 °C and 250 °C the material loses its consistency and almost completely dissolves. Unburned, falling foil residues are completely harmless due to their low weight. In addition, fire, smoke and hot gases can escape upwards through the opening in the roof or in the facade. This prevents heat build-up, which can cause arcing, explosions or failure of the primary support structure. In this way, steel structures do not lose their strength. To discharge cold smoke, electrically or pneumatically controlled mechanical opening elements can be used in the cushion system.
Light Transmission and Thermal Insulation
Further, the Texlon® ETFE roof system allows maximum light transmission and excellent thermal insulation. Chelsea and Westminster Hospital effectively used the Stack Effect in combination with Texlon® ETFE to enable easy ventilation of the central atrium space. The Texlon® ETFE roof system provides effective ventilation and temperature control, ideal for a hospital or any sanitary environment.
The Texlon® ETFE inflated panels are supplied air by means of a small inflation unit (~ 220 pa) which gives the foil its structural stability. A Texlon® ETFE roof requires no external cleaning as it self-cleanses under the action of rain, saving the hospital in terms of maintenance costs.
Contact us for more information on Texlon® ETFE properties.
Information
| | |
| --- | --- |
| Date | 1990 |
| Location | London, United Kingdom |
| Sector | Medical |
| Size | 4,200 m² |
| Structure | Steel |
| Type | Roof |
| Architects | Sheppard Robson |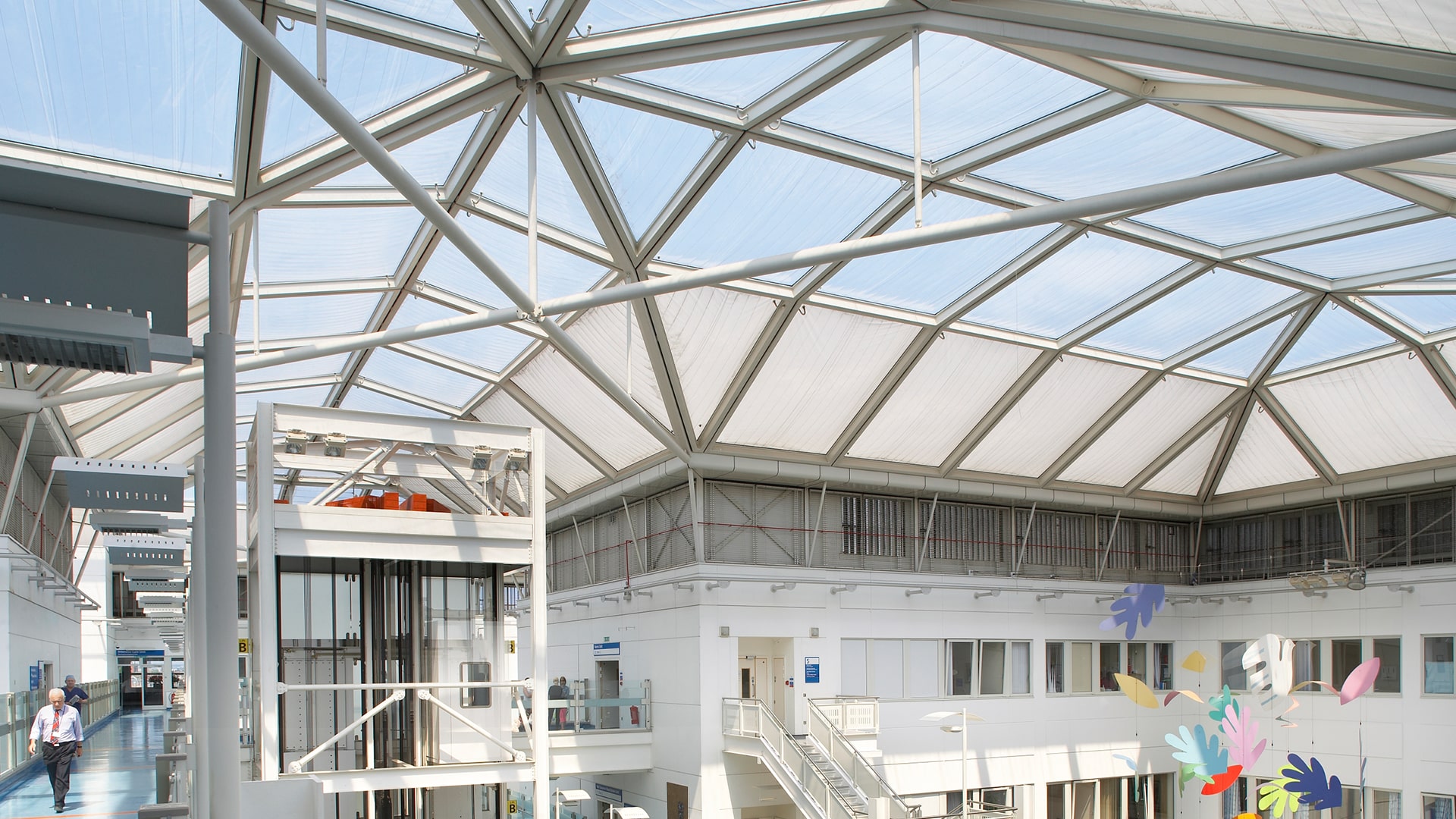 Copyrights: Main image and left image: Hufton+Crow, right image Vector Foiltec.