Shopping Mall with three Texlon® ETFE Domes
The shopping mall City Park Grad Voronezh is a place where visitors can both shop and relax. It has 280 stores, including 4 hypermarkets, and additional buildings that host a cinema, an aquarium, and much more. Vector Foiltec embraced the opportunity, creating three lightweight dome structures with our Texlon® ETFE system. In total, we used 1,950 m² of Texlon® ETFE cushions over three domes with amazing steel structures. The largest dome is 1,420 m² and the two smaller ones are 265 m² each.
Three layers of ETFE clipped into the Texlon® aluminum profile create three domes bringing natural light into the mall. The outer layer of the Texlon® ETFE system is printed with a silver dot matrix to reflect the solar radiation. That helps control the heat input into the building.
ETFE Cladding and Shopping Malls
Shopping is about more than "buying stuff" – it is time with friends and family, to enjoy the amenities that today's shopping malls offer and to have a great experience.
A feel-good atmosphere and protection from rain and excessive heat are important factors to give shoppers a comfortable environment. Texlon® ETFE is the perfect building skin to achieve all of that. It establishes space that is flooded with daylight, but still creates acoustical comfort that invites people to stay – which increases the commercial success of the shopping environment.
Contact Us
Contact us and find out how to increase the commercial success of your next project.
Information
| | |
| --- | --- |
| Date | 2010 |
| Location | Voronezh, Russia |
| Sector | Retail |
| Size | 1,950 m² |
| Structure | Steel |
| Type | Roof |
| Architects | TraDes Group Moscow |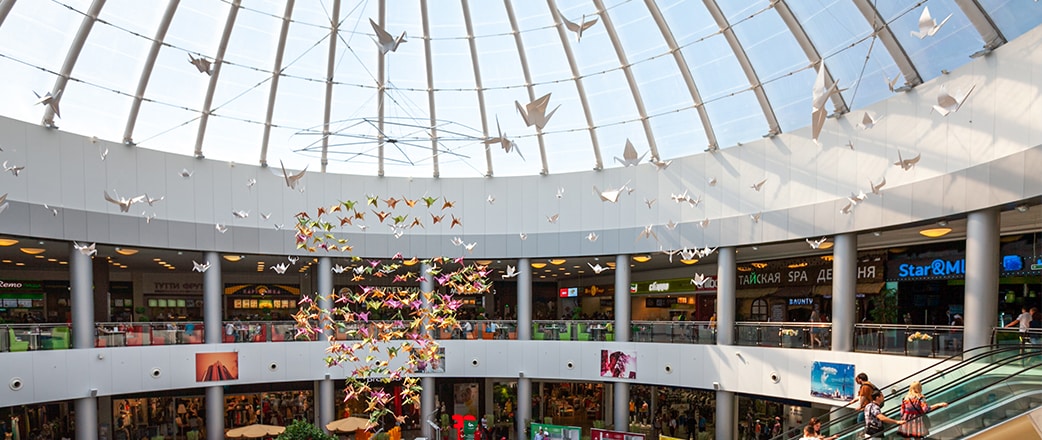 Images Copyright: Konstantin Potapov (Потапов Константин)