Lightweight Structures with UV-Transparency at New Zealand's Forsyth Barr Rugby Stadium
Vector Foiltec is changing the face of sports and stadia design. At Forsyth Barr Stadium, the Texlon® ETFE system covers the entirety of the playing field and the spectator ranks. The system is supported by a lightweight steel structure. The ETFE works as both a roofing and façade system. It offers unprecedented comfort to over 30,000 spectators and players without compromising the sport. Forsyth Barr Stadium was commissioned for the 2011 Rugby World Cup.
Forsyth Barr Stadium in Dunedin, New Zealand and is covered in 20,588 m² of Texlon® ETFE. Forsyth Barr is the world's first and only permanently covered stadium with a natural turf pitch. Beyond hosting rugby matches, the Forsyth Barr Stadium also hosts other sporting, entertainment, educational and cultural events.
Enclosed Stadium with Natural Turf Pitch
A challenge with the project was creating a covered venue that was suitable for Dunedin's cold, wet and blustery climate. Further, the clients also searched for a cost effective method to revamp the stadium and bring significant positive impact to its surrounding community.
"The design team was then faced with the challenge of creating a cost-effective stadium with a natural grass pitch growing under a fully fixed roof. The research also clarified that the stadium design would be driven primarily by the requirement to maximize sun strike levels and natural ventilation." –Populous
Information
| | |
| --- | --- |
| Date | 2011 |
| Location | Dunedin, New Zealand |
| Sector | Sport/Leisure |
| Size | 20,588 m² |
| Structure | Steel |
| Type | Roof & Facade, Roof, Facade |
| Architects | Populous |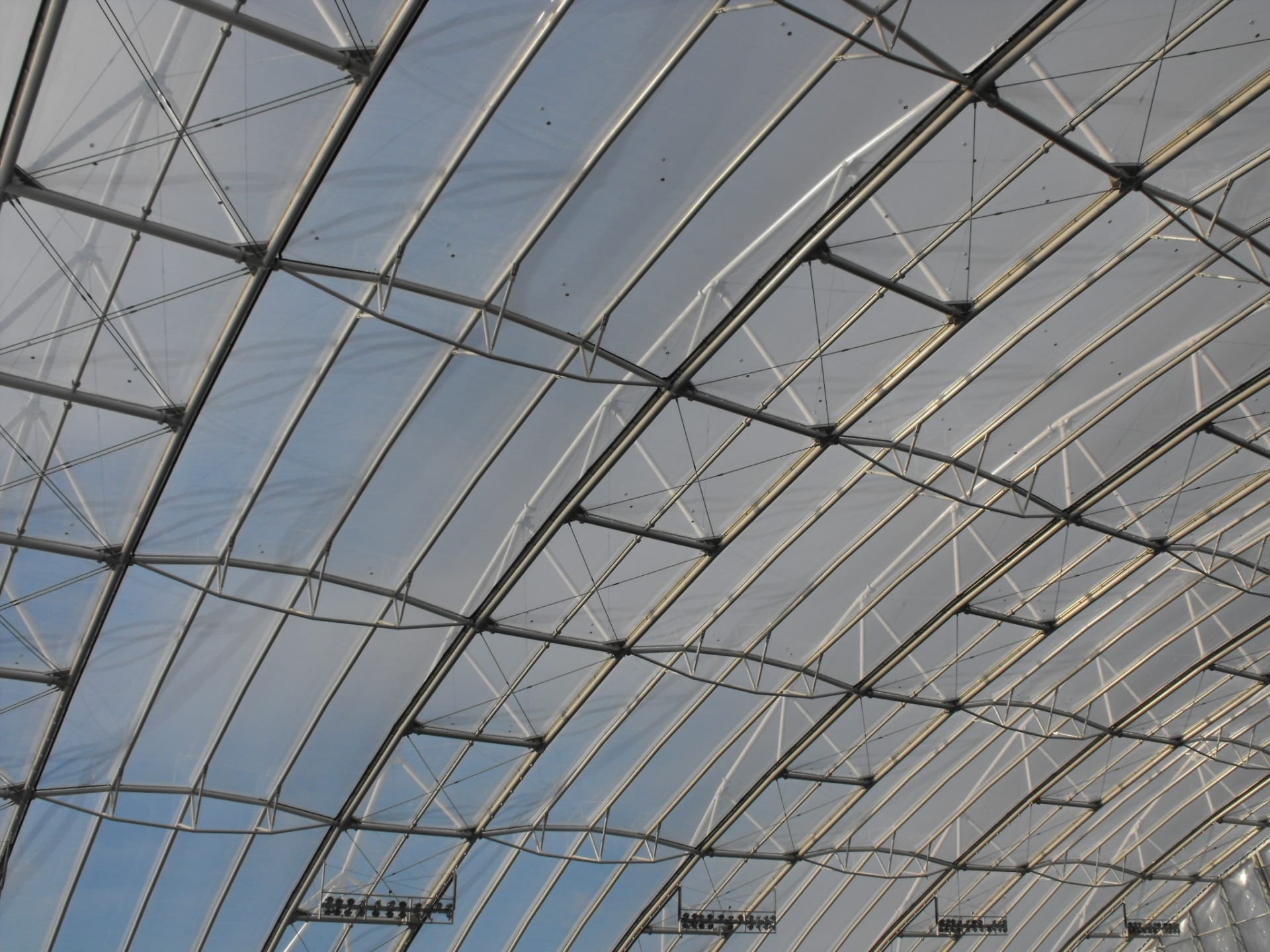 Image copyright (left to right, top to bottom): © Chris Sullivan, © Jamie Cobeldick, ©Vector Foiltec, ©Vector Foiltec
UV-Transparency and Weightless Structural Support
Rigorous testing and countless studies on the Texlon® ETFE system established that grass grows and flourishes under Texlon® ETFE. As a result, its UV-transparent properties allow both flora and fauna to grow and live natural underneath. This special ETFE quality enables more and more stadia designs to incorporate closed roofing systems. In the same time, being able to have natural grass, which offers better traction, lowers injury risk, and improves safety. A revolutionary development in stadia design.
Lightweight Supporting Structure
Design and engineering of the roof maximize the properties of Texlon® ETFE allowing optimal solar light transmission while natural ventilation is provided by raised façades. The supporting structure spans 105 meters with an internal roof clearance of 37 meters. So, that is an engineering achievement made possible by Texlon® ETFE's light weight properties, approximately 1% weight of glass. ETFE's longevity and its reduced carbon footprint allow for sustainable building practices and eco-friendly solutions. To sum up, ETFE's lightweight property makes it so that there is less need for supporting structures thus reducing material costs and consumption in building.
Why Vector Foiltec
At Vector Foiltec we pride ourselves on being able to understand what our client needs and wants. Using our expertise and with qualified personnel located globally, Vector Foiltec aims to create. success. and deliver results beyond expectation to all our clients.
Let us support your project, contact us here for ETFE system solutions.
Visit the Forsyth Barr Stadium here.