Renovation: Exhibition Center Koelnmesse Replaces Glass Roofs with ETFE Roofs
Exhibition grounds face several challenges throughout each year. It is important they serve the needs of organizers, exhibitors, and visitors, while ensuring the success of trade fairs, now and in the future. These goals brought Koelnmesse project 3.0 to life. They want to become a refreshed and upgraded fairground. How are we a part of this? We helped them to achieve this goal with our Texlon® ETFE system.
The renovation project included two important connections between their fair halls: passage 2/3 and passage 4/5. The passages had a glass roof, but over the decades it had aged and was not longer aesthetically pleasing. By covering the passages with our Texlon® ETFE cushion system, we helped create spaces where people connect and feel comfortable. Vector Foiltec's highly experienced in-house teams worked closely with the architects, Beyss Architekten (passage 3/4) and Kaspar Krämer Architekten (passage 2/3) to meet all of the requirements.
"Building in existing structures is something quite different from building on greenfield sites. Normal does not exist.", this is how Geoffrey Walters, Engineer and Sales Manager, describes the Koelnmesse project.
One Stop Shop
The best thing is to have as few contacts as possible for a construction project, less cooks in the kitchen as they say. The capability of one company to take care of your needs keeps things moving forward. And that's exactly what Koelnmesse wanted, and we delivered. Koelnmesse received a one-stop-shop service package. This glass to ETFE renovation project started with Vector Foiltec dismantling the existing glass roofs and three glass facades. What came next? The new steel structure. We helped to optimizing the steel structure. The lightweight Texlon® ETFE system offers tremendous advantages over traditional roofing systems in terms of energy savings, lower structural costs, and better light transmission.
Another solution used for one passage is our patented Thermal Cap system. It is directly used on our aluminum profiles connecting the cushion. As a result, it avoids thermal bridges and leads to a surface temperature that is above the dew point which prevents condensate. The U-value performance has improved exorbitantly. Further, operable vents in the roof system, and the surrounding bitumen flat roof were also in our scope of work.
Information
| | |
| --- | --- |
| Date | 2019 |
| Location | Cologne, Germany |
| Sector | Cultural/Exhibition |
| Size | 2,364 m² |
| Structure | Steel |
| Type | Roof |
| Architects | 4+5: Beyss Architekten, 2+3: Kaspar Krämer Architekten |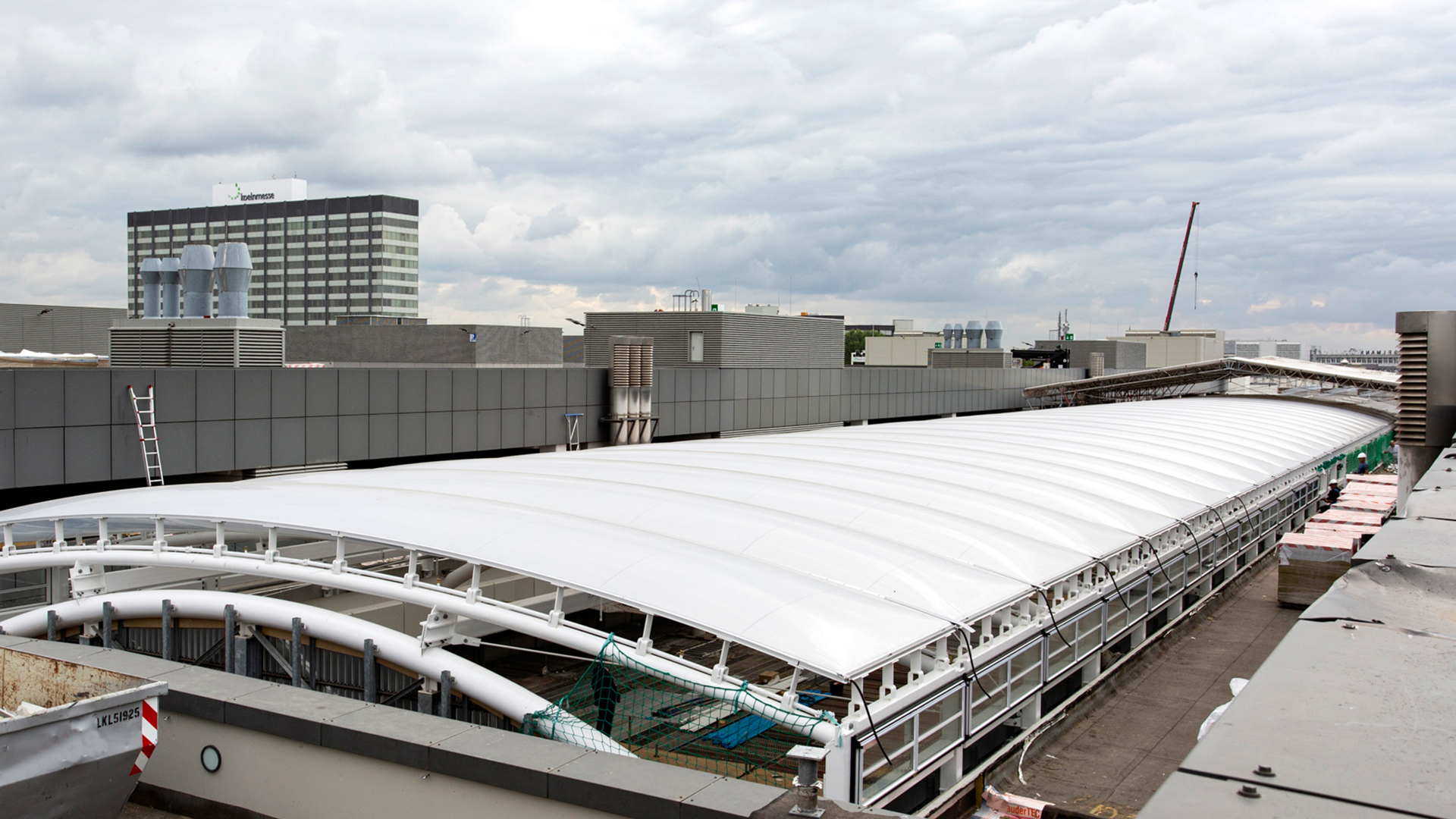 Images Copyright: Ludof Dahmen Koelnmesse
Challenging Schedule for this Renovation Project
The project involved solving many challenges, one being the schedule. And we arrived due to our experience of over 35 years in ETFE cladding projects. The visitors of Gamescom enjoyed walking, sitting, or making business under the ETFE cushion system.
Smart ETFE Cladding System
The upper ETFE layer of the cushions have a silver ink dot matrix print pattern on 50% of the foil, which creates a comfortable atmosphere for visitors. Moreover, it is a great place to be providing a balance of natural light, thermal performance, and anti-glare properties. Visitors forget that they are under a roof.
The low maintenance requirements, proven longevity, and remarkable durability of the Texlon® ETFE system make it one of the smartest long-term building solutions available on the market today. At the same time, ETFE cushion systems are very stable and can support various environmental loading scenarios throughout the world.
Certified Sustainability and Durability
ETFE (Ethylene tetrafluoroethylene) is a modified Copolymer which has been adapted for use in the architectural, design and construction industries. It is unique in that it boasts exceptional longevity, is fully recyclable and resists ultra-violet light. The building material is also self-cleansing, improving cost efficiency and reducing the carbon footprint. The Texlon® ETFE system has an Environmental Product Declaration (EPD) based on ISO 14025 and EN 15804. It is possible to insert Texlon® EPD data directly into the LEED, BREEAM or DGNB building certification system.
Exceptional Solutions with Texlon® ETFE
As the global market leader in ETFE as a building material, with tons of experience, we have succeeded in creating exceptional solutions across the globe. Our thinking outside of the box has provided highly unusual insights. We can grant solutions and help our clients in many ways. And we love to develop by constantly challenging ourselves.
So, if you have a challenge for us, get in touch today!