The refurbishment of L'ilo Centre Commercial Auchan
The refurbishment of the L'ilo Centre Commercial Auchan shopping center has transformed the town center of Epinay-sur-Seine. The dramatic architecture of the building designed by Valode and Pistre Architects helped secure a large number of new shops. The great central location served by a tram line, parking facilities, and new retail units mean that L'ilo Centre Commercial Auchan can expect to attract customers from surrounding towns.
Texlon® ETFE Cladding System Covering the Streets
The shopping center has three clearly defined blocks that create two "open" streets that meet in a central square. The streets are covered by a Texlon® ETFE cladding system that was printed with white and silver inks to provide solar shading while simultaneously allowing sufficient light to flood the space. The natural light creates a bright and open atmosphere in the retail space.
Sustainable Design for the Refurbished Center
Another benefit of the lightweight Texlon® ETFE cladding system is that the "tree-like" supporting steelwork structure could be reduced significantly. To clarify, sustainable design was central to this project. So, the embedded carbon footprint of the building was minimized compared with an equivalent new build construction. The printed Texlon® ETFE cladding with its high insulation properties covering the atrium made a positive contribution to the carbon footprint of the building.
More turnover for your shopping malls
Contrary to what some people believe, we deliver much more than unique objects d'art. In fact, a summary of all the benefits of our solutions demonstrates how superior they are to most other options. Shopping malls create more turnover and achieve better rents, theme park operators see their clients spending more time in the pools and increased return visits, zoos experience better plant growth under the Texlon® system. In short, the advantages are seemingly endless.
So if you are after a green, sustainable and profitable success story, look no further. It is pretty transparent. Think of us for your next project.
Information
| | |
| --- | --- |
| Date | 2013 |
| Location | Epinay sur Seine, France |
| Sector | Retail |
| Size | 1,692 m² |
| Structure | Steel |
| Type | Roof |
| Architects | Valode & Pistre Architects |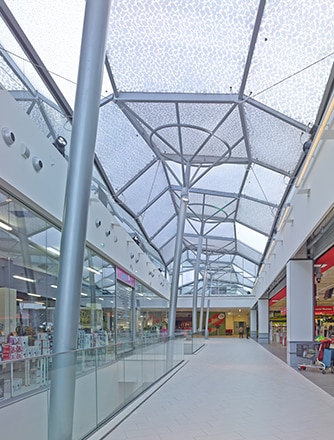 All images copyright © Grégoire Auger.