Durability is Guaranteed
The Royal Burgers' Zoo in Arnhem, Netherlands, stands to bring awareness for mangroves. Built in 1982, Vector Foiltec covered the first mangrove hall, a true test to ETFE's durability. The larger version was opened in 2017. It's the largest covered mangrove in the world and it's covered in Vector Foiltec's Texlon® ETFE system– again. The newest upgrade is a testament to the Texlon® ETFE system's positive results and durability. The Royal Burgers' Zoo went on to build several structures with Texlon® ETFE, including the famous Rainforest, which changed the perception of ETFE in botanical projects.
The New Mangrove Hall – Guaranteed Durability
The Burgers' Zoo is designed to inspire and amaze visitors with a variety of flora and fauna. They do so with freely roaming insects and animals. The Burgers' Zoo aims to create live spaces that bring real experiences to their visitors. Texlon® ETFE foils are transparent and allow high levels of light transmission into buildings. They are UV-transparent and therefore allow animals and plants to flourish indoors. Visitors can enjoy an outdoor experience while being inside protected from the elements.
Texlon® ETFE Creating Spaces
Butterflies flying through the air inbetween visitors, is an active reminder of the possiblity to recreate natural environments in unnatural circumstances. A biome normally found thousands of kilometers away, is now closer than you may think. These diversities in environmental experiences are increasingly accessible because Texlon® ETFE has made it so.
Texlon® ETFE: Smart Solutions for Zoos and Botanical Gardens
The energy efficient Mangrove Dome, with an area of 3,000 m², creates a natural environment for various animals and plants. The Mangrove Dome has its unique structural frame, which sits on the exterior of the building. Therefore creating a smoother transition to the outside world and possessing a bold aesthetic. The three-layer pneumatic Texlon® ETFE system contains 40 transparent foil cushions (spanning up to 29 meters). Consequently, this allows its denizens and visitors underneath to bask in natural sunlight. Moveable vents – with appropriate bird net manipulations to keep insects and birds inside – are also made of ETFE cushions. Therefore, they play a vital role in the acclimatization of the Mangrove Dome.
High levels of visible light and ultraviolet UV-A light are essential for plant growth. They pass unfiltered through Texlon® ETFE. A single layer of 100µm foil allows more than 90% of visible light and 80% of UV rays to pass through. The UV rays lead to a so-called bactericidal effect of light transmission, a natural phenomenon that kills bacteria. Consequently, that plants and animals thrive as if they were in their natural environment.
Information
| | |
| --- | --- |
| Date | 2017 |
| Location | Arnhem, Netherlands |
| Sector | Botanic/Zoo |
| Size | 2,800 m² |
| Structure | Steel |
| Type | Roof |
| Architects | ABT |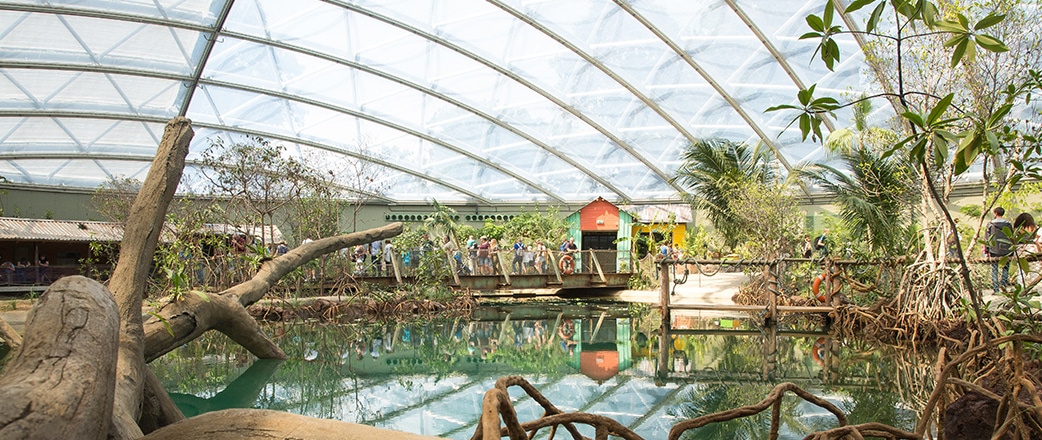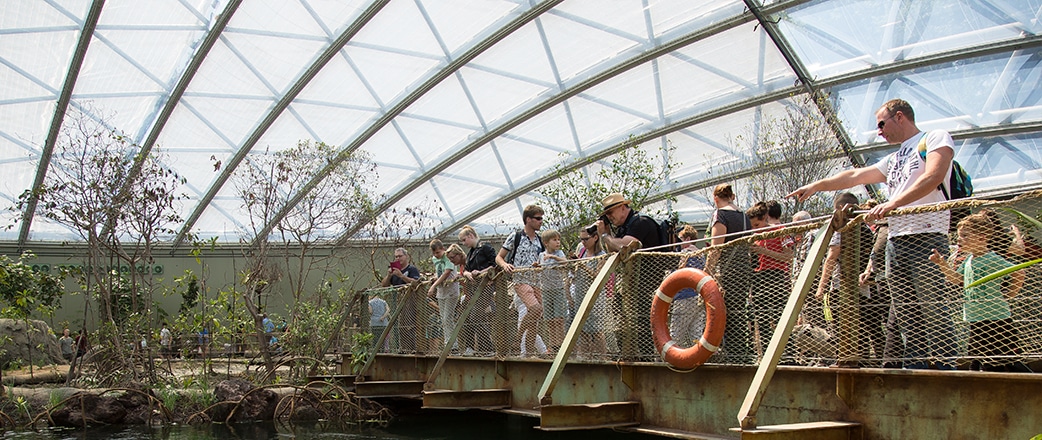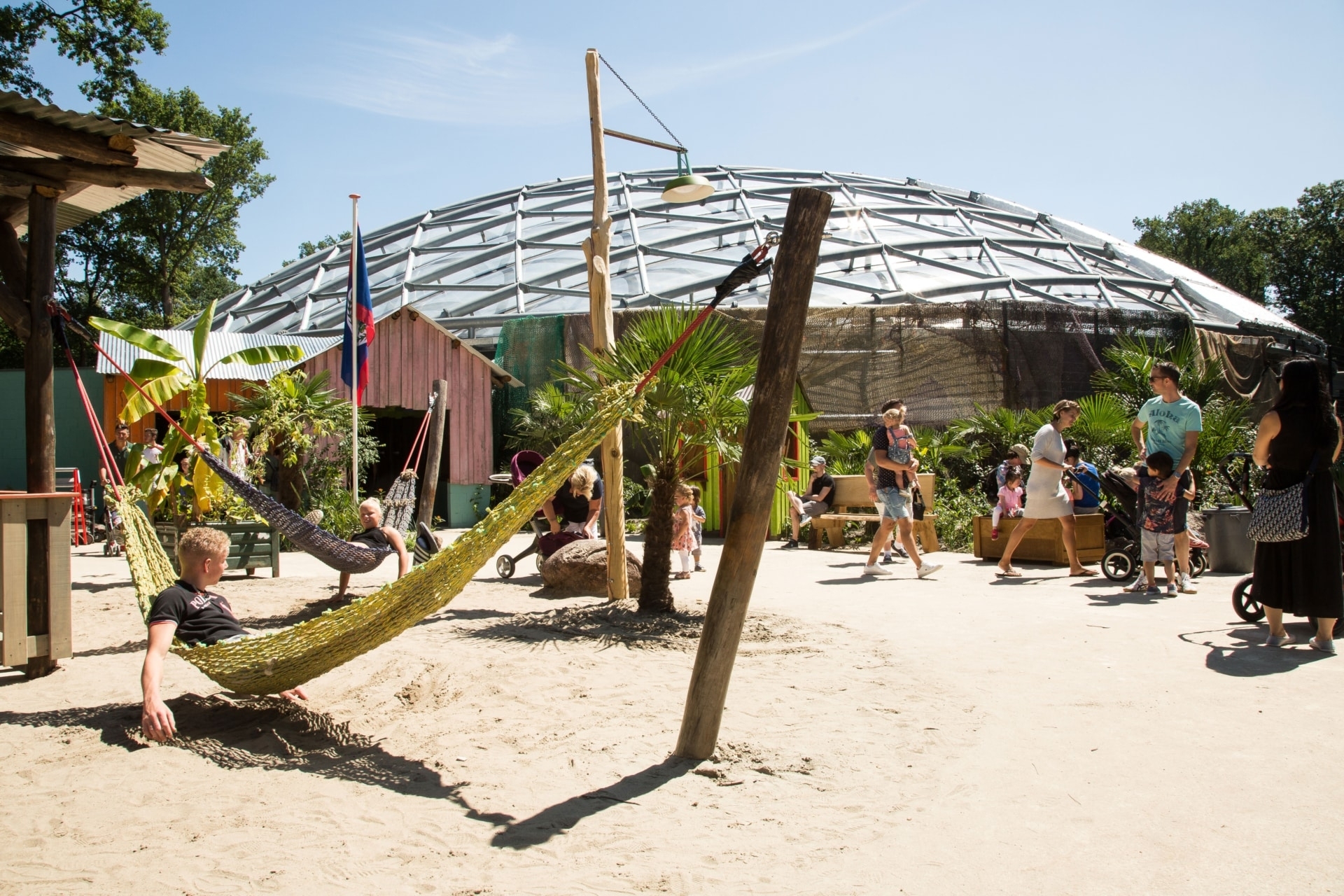 Work with the Best
At Vector Foiltec we are always pursuing success. We are always trying to improve and stay one step ahead, which is why we are the world market leaders. Texlon® ETFE is our business and we are confident that we can support your project and deliver top quality services and results. At Vector Foiltec, we have a complete and competent in-house team. Hence, we provide Design, Engineering, Fabrication, Installation and Maintenance for all your ETFE needs.
Vector Foiltec as a company goes further than just a complete in-house for all ETFE needs, but we also have the unique ability to understand and prioritize the clients' needs and vision for the project. It is through this holistic combination that we as a company aim to create success.
Let us support your project, contact us here for ETFE system solutions.