Texlon® ETFE Atrium for Higher Job Satisfaction
Scientists have discovered that a pleasant view increases job satisfaction and productivity. Therefore, it is not surprising to us that OAS has a new record in their employee numbers. All since Vector Foiltec installed this wonderful Texlon® ETFE covered atrium for their office building.
Two-layer ETFE System
The building uses a two-layer Texlon® ETFE system which covers 430 m². It is a five-story building set on a steel structure. The atrium allows sunlight in and connects the protected inside space to the outdoor environment, adding natural beauty to the space. The employees at OAS AG can take a break from the workday and feel as if they are outside, while being in a comfortable indoor space. Open atrium areas bringing the outdoors in help improve creativity and performance.
Steel Support Structure
The offices are in a five story building based on a steel structure. The supporting structure forms a rectangle while the aluminum profiles span the two-layered ETFE cushions. The lightweight, flexible and durable Texlon® ETFE cladding system creates a naturally illuminated space.
Good to know: Vector Foiltec's Texlon® ETFE system can be built on a variety of support structures, not just steel. For example, a lot of our projects use wooden structures like the Afrykarium in Wroclaw or the Zeisehof in Hamburg, Germany.
Benefits of ETFE Covered Atria
Incorporating two layers of transparent ETFE make up for a highly transparent atrium that provides maximum light transmission, weather protection and acoustic comfort.
Texlon® ETFE is the perfect solution for atrium areas that are open or partly open, or that are covered with a type of material that does not let any light in. In short, the best way to create an outdoor atmosphere, while controlling light transmission, is to include an ETFE enclosure over the atrium.
What makes Texlon® ETFE an incredibly sustainable construction project? The low levels of embodied energy, combined with its adaptability in terms of natural ventilation, thermal insulation and light transmittance. In short, use the system for your next office project.
If you have a project in mind, contact us to get more information about the Texlon® ETFE system.
Information
| | |
| --- | --- |
| Date | 2012 |
| Location | Bremen, Germany |
| Sector | Offices |
| Size | 430 m² |
| Structure | Steel |
| Type | Atrium |
| Architects | Gildehaus Landenau |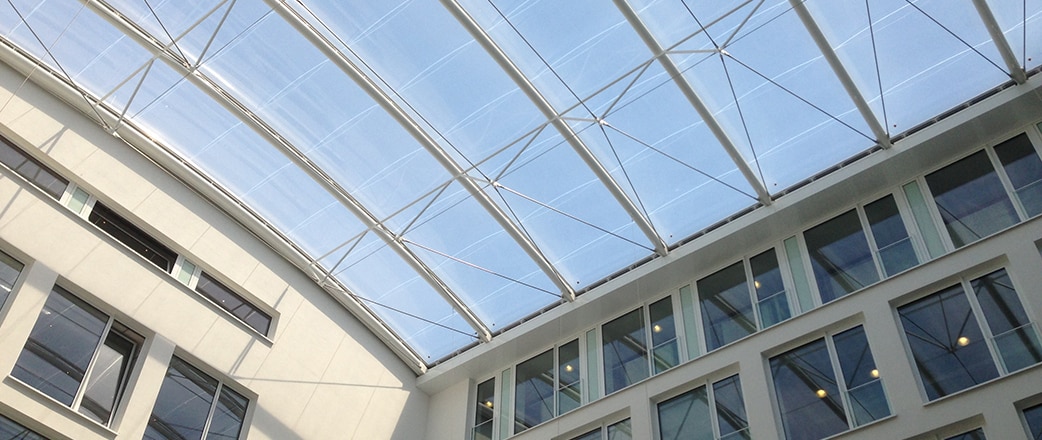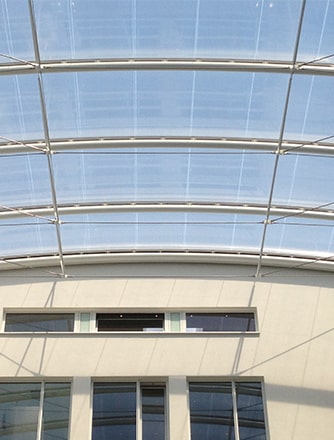 Images Copyright © Vector Foiltec