A Piece of Times Square in Singapore – Wrapped in ETFE
We are excited to be part of the project Ten Square at 100 Selegie Road, Singapore. The unique plot geometry and bustling intersection location makes Ten Square a local landmark. In fact, the Texlon® ETFE cladded facade can be fully illuminated. As a result, the landmark becomes a beacon of light with a unique day and nighttime identity.
A Stunning ETFE Facade and even more
For our client ABM (Autobahn Motors), it will be their second vertical luxury "car vending machine" in Singapore. With the ETFE cladding and massive LED display it is an eye-catcher. Our clients will also use this amazing venue to bring together collective creative and innovative opportunities. ABM hopes to encourage and increase the community engagement.
Illumination with ETFE and 3D Content
Vector Foiltec had the privilege to work with a passionate client and Archideas Design. We are responsible for the three facades with our Texlon® ETFE system. In fact, they are almost 15 stories high, with no horizontal joints. Firstly, the two front faces are cladded with white ETFE. At night the facade will further enhance the LED screen, as the ETFE illuminates in-sync with images on the screen. As a result, the imagery has an even greater effect. For example, a Visual effects (VFX) company turned the vending machine into an "Arcade Claw Car Catching Machine" using 3D content on the screen. Ten Square is the first 3D billboard in Singapore.
Secondly, the rear facade is also a 2-layer Texlon® ETFE system – now using silver print on the ETFE. Consequently, the rear facade creates a visual contrast. In addition, it can not only be illuminated but also be projected on.
Do you want to create an eye-catcher? Contact us.
Information
| | |
| --- | --- |
| Date | 2021 |
| Location | Singapore, Singapore |
| Sector | Retail, Special |
| Size | 1,116 m² |
| Structure | Steel |
| Type | Facade |
| Architects | Archideas Design |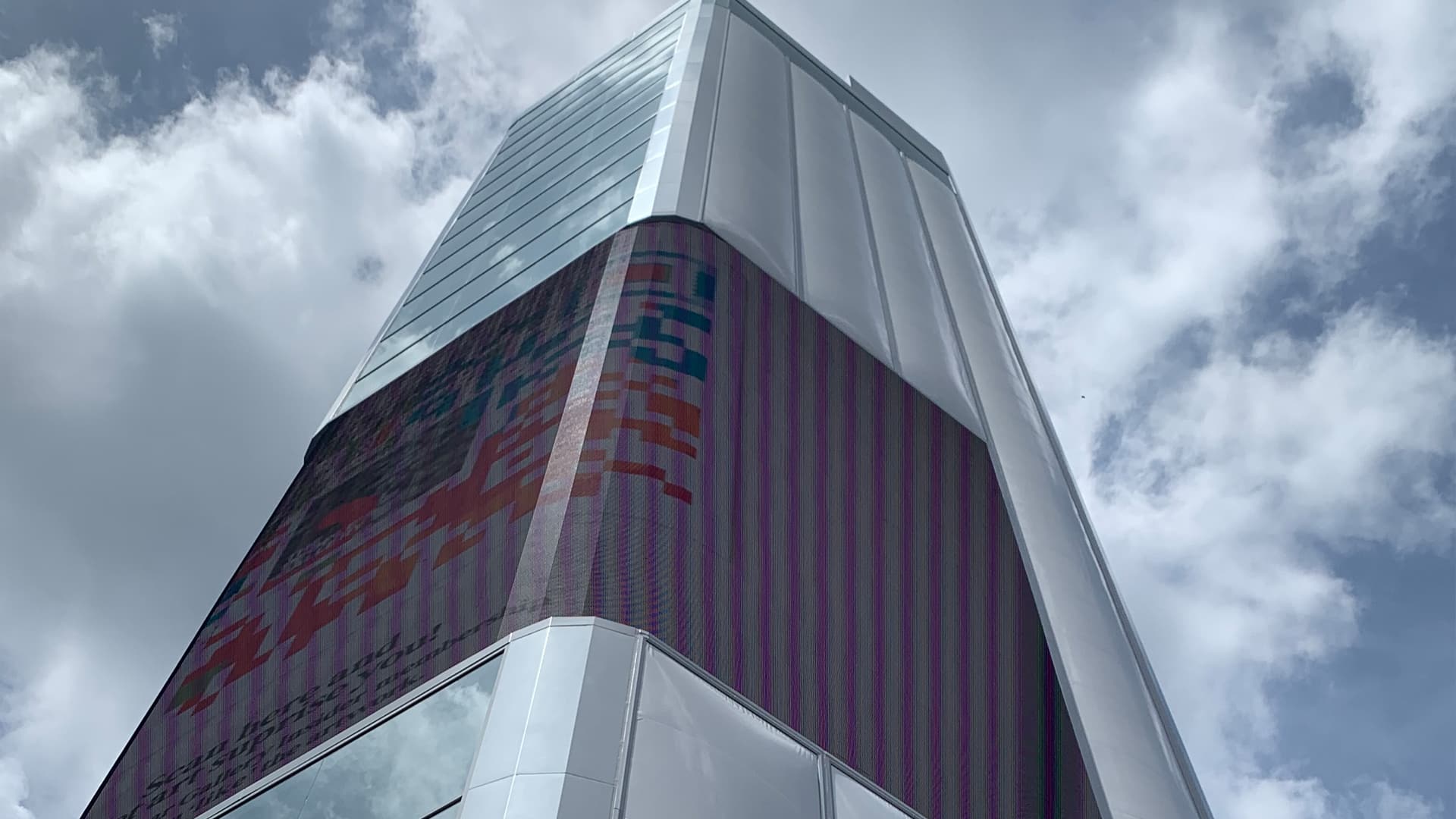 Images Copyright: Vector Foiltec