Transparent is the New Retractable Roof
It is easy to see why the U.S. Bank Stadium field is so bright, with 60 percent of the roof being transparent, allowing in natural daylight. Some of the individual Texlon® ETFE panels are over 110m long (300 feet), resulting in a significant reduction in the weight of the supporting structure.
Stadium and arena designs have changed over the last 15 years. No matter the location around the world there are commonalities in overall design results, and they are the comfort and experience of the individuals in these stadiums. Each new stadium brings more advanced technology and more efficiencies than the last. Large stadiums are no longer reserved just for sporting events; they are multi-faceted destinations. Professional sports teams share their space for special events and musical concerts. Olympic stadia are transformed into usable spaces post Olympics as well. Vector Foiltec has been an integral part of the transformation of stadia, both old and new, with their Texlon® ETFE (ethylene tetrafluoroethylene) technology.
New Era in Stadium Transparent Roof Construction
The early completion of the new home of the Minnesota Vikings, marked a new era in stadium construction. By utilizing Vector Foiltec's transparent Texlon® ETFE system for 60% of the roof at U.S. Bank Stadium, sunlight comes in, but simultaneously keeps snow, rain, cold and heat out. The superb construction is the largest ETFE roof in North America, spanning 22,000 m² (240,000 square feet), and the first completed stadium to incorporate this technology. Vector Foiltec collaborated with a talented team of architects to help engineer a roof that could withstand harsh winter conditions, while maintaining an aesthetically pleasing roof design. The 2016 NFL fan experience and feedback has been immensely positive!
Super Bowl 2018
On February 4, 2018, U.S. Bank Stadium was the home of Super Bowl LII. The fans loved the views to the outside, while they were simultaneously being protecting from snow, rain and cold.
LEED Gold Certification
As with most projects in the United States, U.S. Bank Stadium planned for LEED certification after its completion. In November 2017, it has received Leadership in Energy and Environmental Design (LEED) Gold certification. Vector Foiltec's Texlon ETFE system is part of the strategy to reduce the ecological footprint. The weight of the steel roof structure is less due to implementation of ETFE, and the adjusted transparency of the technology will allow for less artificial lighting, while helping control solar heat gain.
Awards
The U.S. Bank Stadium has been recognized with the 2018 American Architecture Award by The Chicago Athenaeum. They were also recognized with the 2019 Venue Excellence Award. Learn more about ETFE and stadium design.
Information
| | |
| --- | --- |
| Date | 2015 |
| Location | Minneapolis, MN, USA |
| Sector | Sport/Leisure |
| Size | 22,000 m² |
| Structure | Steel |
| Type | Roof |
| Architects | HKS |
Expert Contact
Alexander Jafari
Vice President of Business Development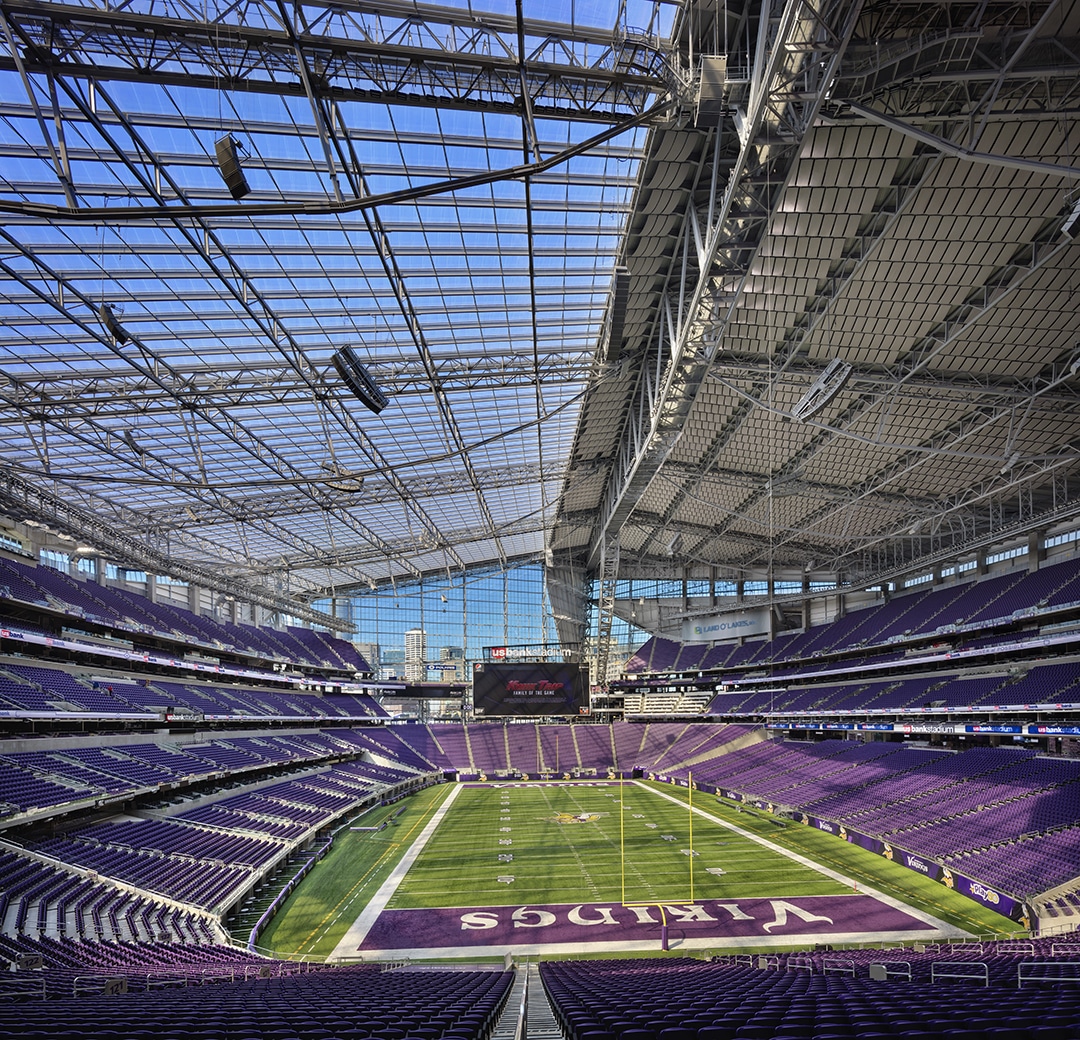 Main Image: © Mark Goodman Photography Bottom left: © Bergerson Photography