Texlon® ETFE Skylights – State of the Art Solar Control
The Mo Ostin Basketball Center at the University of California Los Angeles (UCLA) includes north facing ETFE skylights that ensure high levels of glare-free, indirect daylight. Each north facing skylight is comprised of vertical ETFE cushions that bring in ample natural light, adding to the facilities controlled climate. Solar Control was key to the interior climate of the building.
Amenities with Solar Control
The new center offers training areas, practice gyms and locker rooms. These amenities are available to both the men's and women's UCLA Bruins basketball programs, as well as other athletic programs for the students.
In addition to the state of the art amenities, the Texlon® ETFE skylights create a perfect state of the art solar controlled practice area. The controlled climate and acoustic comfort are just a couple of the advantages when incorporating ETFE foil. The dot matrix print pattern helps control the amount of healthy California sunlight that enters each of the 3 basketball court areas.
The Basketball center was named after legendary music industry executive, philanthropist, and Bruins alumni Morris "Mo" Ostin. The facility opened on schedule in October 2017.
This facility is separate from where actual games are played. This improves the overall experience for players and coaches.
About the Building
The building also houses the Kevin Love Athletic Performance Center, which has its own ETFE skylights. It includes separate offices for the athletic performance staff of the men's and women's basketball teams.
Awards
The Mo Ostin Basketball Center, in Los Angeles, has been recognized with a Westside Urban Forum Award 2017 and a 2018 American Architecture Award by The Chicago Athenaeum, and most recently the architect received the 2020 CA AIA Design Award.
Check out other ETFE projects in the sports genre…
Information
| | |
| --- | --- |
| Date | 2017 |
| Location | Los Angeles, CA, USA |
| Sector | Sport/Leisure |
| Size | 370 m² |
| Structure | Steel |
| Type | Skylight |
| Architects | Kevin Daly Architects |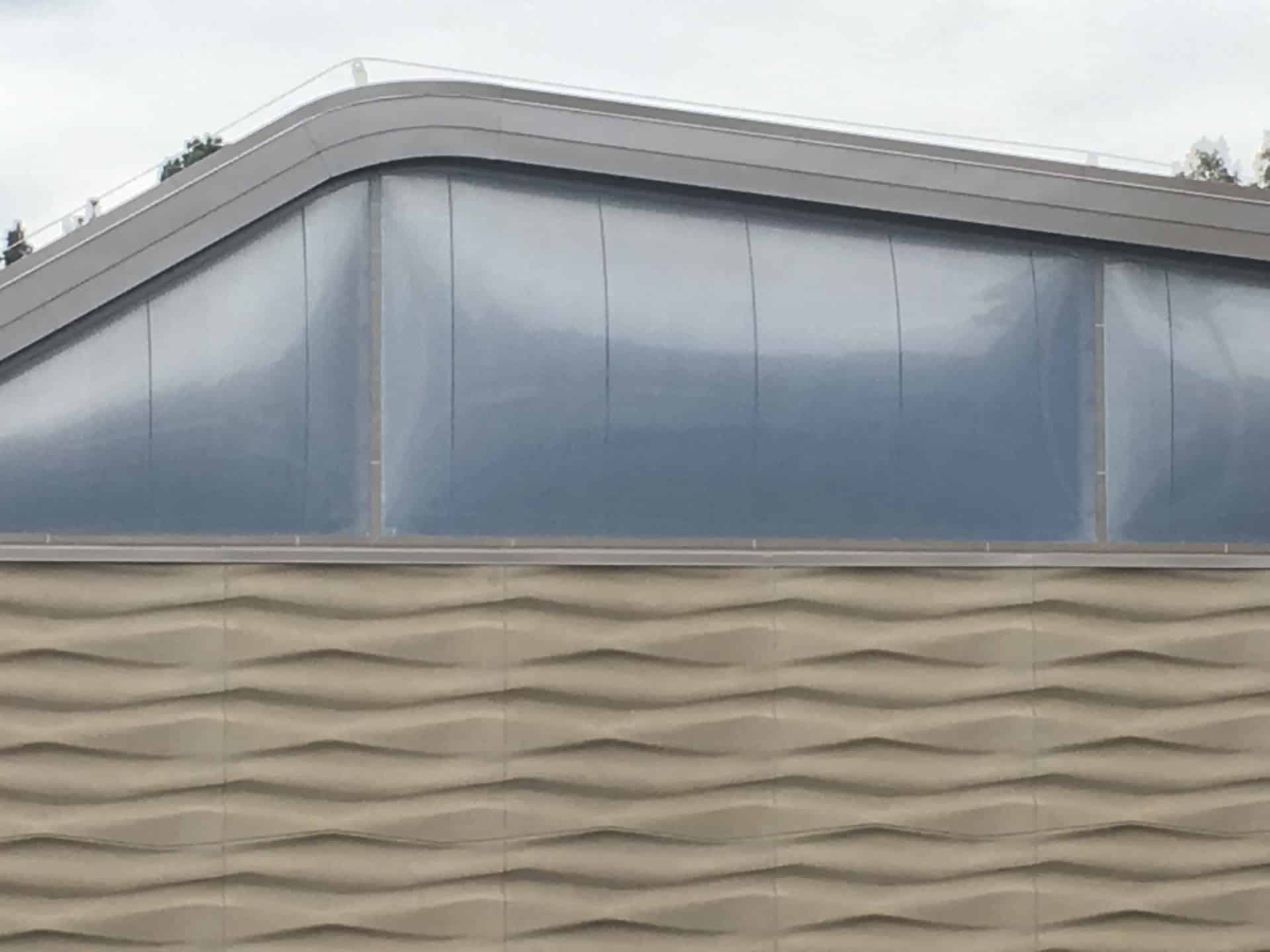 Image Copyright: © Eric Staudenmaier
Texlon® ETFE is an extremely transparent material, the light transmission of a single layer of foil ranges from 88%-95% over the entire solar spectrum. A 200μm ETFE foil is almost 20% more transparent than a 3 mm pane of float glass. It is possible to change the aesthetic and thermal performance of the Texlon® system by applying specialty coatings, printing, and by introducing additional layers of foil. These methods will all help improve comfort levels inside of a building. With Solar control occupants are shielded from heat gain, IR and harmful UV radiation, while simultaneously enjoying natural daylight.