Innovative Light-weight Options for Smart Design Solutions
Following the innovative development, the Adelaide Entertainment Centre, is now one of Adelaide's best and most outstanding concert and theatre venues. Designed by Design Inc. Melbourne, the entertainment center now boasts an arena with a 12,000 capacity. Furthermore, it holds a theatre with a capacity of 2,500 people. Moreover, the venue and its configuration can be adapted to suit induvial schedule events. It is versatile and practical for all scheduled events, an innovative structure for all event needs.
Adelaide Entertainment Centre and Texlon® ETFE
The entrance to the Adelaide Entertainment Center, nicknamed The Orb, is a large dome shaped foyer. The entrance is comprised of two layers of Texlon® ETFE foils. Moreover, the white and transparent ETFE foils can be illuminated by LED system lights that are capable of providing over 16.7 million color combinations. The LED system is fully programmable to provide virtually any range of color patterns. Henceforth, giving the Adelaide Entertainment Center entrance the ability to change and adapt to best suit scheduled events. It also allows the venue to create unique visual aesthetics for it's guests.
Expertise and Expectations
The installation of the Texlon® ETFE inflated panel system was performed using rope access technicians. This combined with Vector Foiltec's unique trafficable netting system, enabled other trades to work below without significant exclusion zones. Texlon® ETFE properties and our expertise allow for quick and efficient installation of roofing and facades, enabling us to deliver results to our clients beyond their expectations.
Information
| | |
| --- | --- |
| Date | 2010 |
| Location | Adelaide, Australia |
| Sector | Cultural/Exhibition |
| Size | 2,498 m² |
| Structure | Steel |
| Type | Other |
| Architects | Design Inc |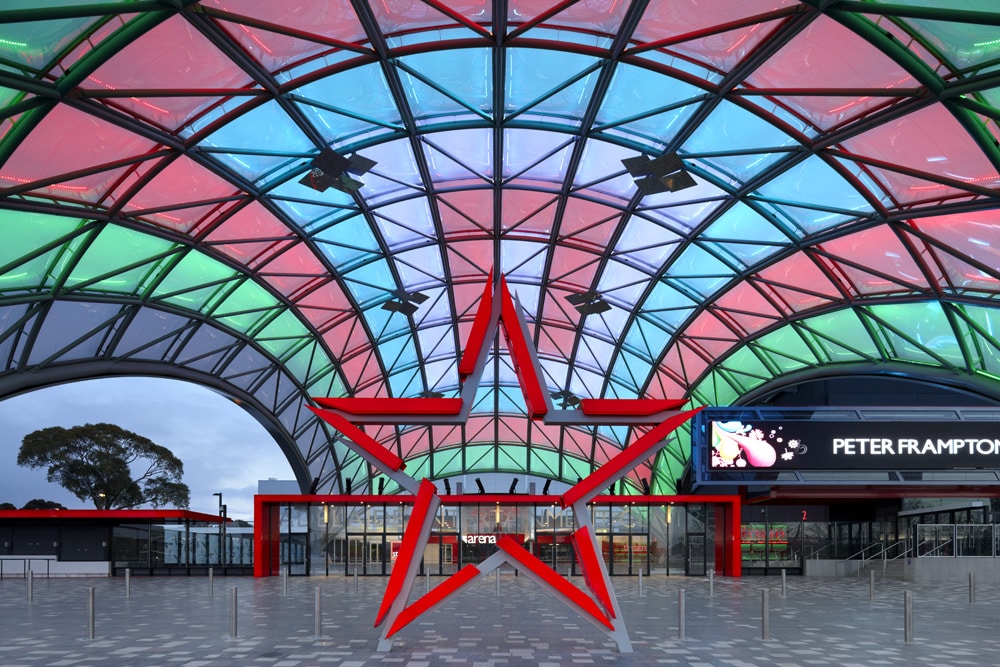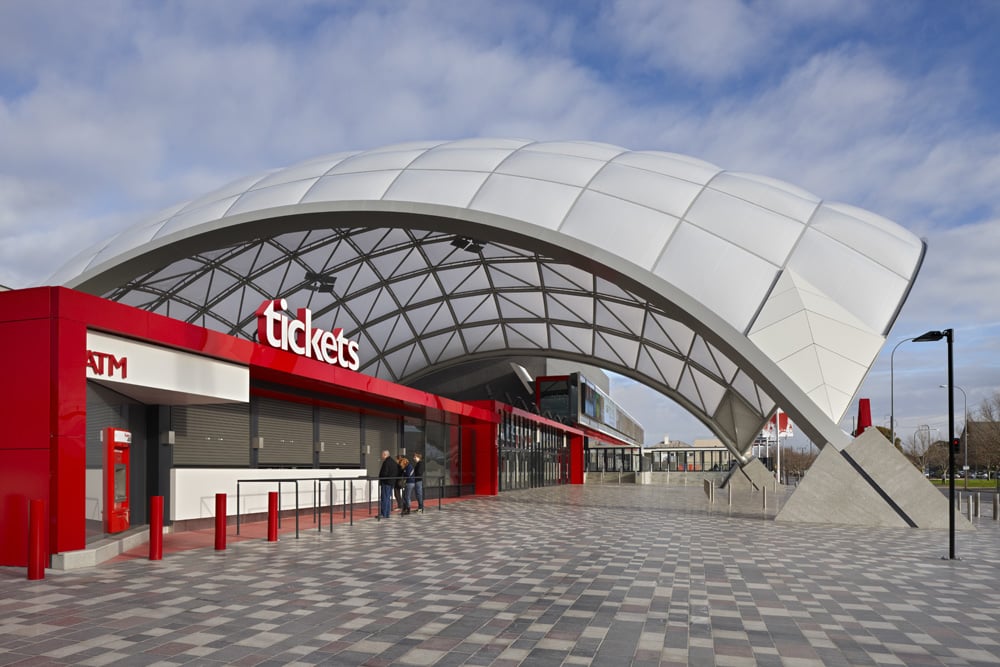 Image Copyright (all): © Dianna Snape
Be Innovative, Design Anything with Texlon® ETFE
Texlon® ETFE allows for a variety of design options and gives architects the liberty to execute a range of architectural designs. Similarly, Texlon® ETFE has varying properties and benefits that make it the smart solution when it comes to achieving seemingly impossible architectural designs. Moreover, ETFE's lightweight properties allow for incredible designs to come to fruition. Furthermore, Texlon® ETFE foils are transparent and can therefore be illuminated with LED lights. Hence, this enables the creation of virtually any pattern or color combination. Similarly, Texlon® ETFE foils also come in a variety of print patterns, thicknesses and colors. Therefore, allowing for various combinations of design, solar and acoustic control and UV-light transparency.
Why Vector Foiltec
Vector Foiltec is the world market leader when it comes to all things ETFE. We have a complete in house team that can provide all needed services, including; Design, Engineering, Fabrication, Installation and Maintenance of all ETFE projects. Clients have the complete freedom to work completely in-house or collaborate externally.
With a global presence, a complete in-house team and design and engineering competence for in ETFE and structures, Vector Foiltec is committed to giving you successful results beyond our client's expectations. We look forward to being able to help you execute your projects with efficiency, giving you the smart solutions ranging from small to large scale projects.
Let us support your project, contact us here for ETFE system solutions.