Texlon® ETFE Drop-Off Canopy by Vector Foiltec designed by Safdie Architects
Before the stress of a long flight, we want to have an uncomplicated arrival to the airport and not worry about the weather outside. The Texlon® ETFE canopy at Singapore's Jewel Changi Airport provides protection from the environment to passengers, but still allows them to see the sky. Being a part of the Project Jewel, the canopy connects the new complex with the existing Terminal 1. The 5,700 m² canopy consists of a two-layer Texlon® ETFE system. The light weight of the Texlon® ETFE foil enables for the reduction of the supporting structure, while its outstanding light transmission allows spaces to be flooded with natural light.
Scope of Work
Vector Foiltec's scope of work for the canopy included the design, engineering, manufacturing and installation of the Texlon® ETFE system with steelwork, gutters and low level cladding and authority submissions. There are multiple canopies at Jewel making up 7,390 m2.
About Texlon® ETFE: ETFE is a modified copolymer which has been adapted for use in the architectural, design and construction industries. It is unique in that it boasts exceptional longevity, is fully recyclable and resists ultra-violet light. The building material is also self-cleansing, improving cost efficiency and reducing the carbon footprint.
The Oculus at Jewel's Heart
The Project Jewel at Jewel Changi Airport is the new retail and lifestyle complex within the airport. The new attraction is Singapore's largest indoor garden and features a hotel, retail and leisure offerings and facilities for airport operations. Vector Foiltec is part of the team for the central piece of the design for the Project Jewel. The twelve-meter-wide oculus at the centre of the sophisticated steel and glass roof will be built with Texlon® ETFE. The group of responsible architects consists of Safdie Architects as well as Benoy and local architects RSP. For Vector Foiltec, it is an honour to be part of the team for the Project Jewel.
Do you know that the oculus (Rain Vortex) waterfall at Changi Jewel Airport is the world's tallest indoor waterfall? We made it possible through our Texlon® ETFE system! Learn more and go to the project (click here).
Information
| | |
| --- | --- |
| Date | 2017 |
| Location | Changi, Singapore |
| Sector | Transport |
| Size | 5,700 m² |
| Structure | Steel |
| Type | Canopy |
| Architects | Safdie Architects as well as Benoy and local architects RSP |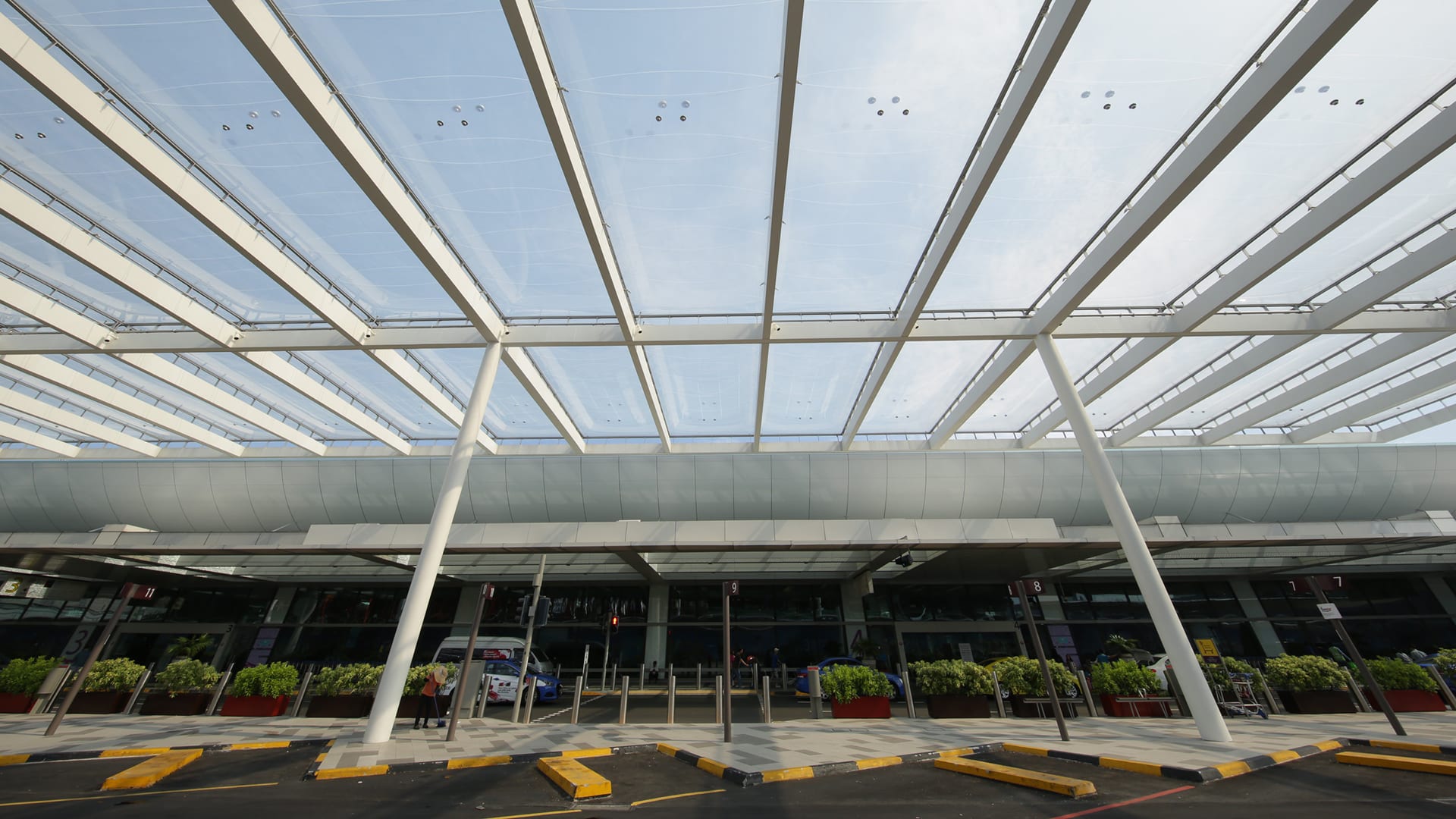 Images Copyright: Vector Foiltec (main and top left images), Frank Pinckers (top right, bottom images)