Sustainable and Multi-functional Options for Stadia's and Aquatic Centers
The National Aquatics Centre was designed by CSCEC International Design and Australian Architects, Peddle Thorp Walker, in conjunction with Arup Engineers. The Aquatics Center is located in the heart of Beijing and was the proud host events for the 2008 Olympic GamesTM. In other words, a light-weight, sustainable and multi-functional structure with bold aesthetics.
The National Aquatics Center and Texlon® ETFE
The National Aquatics Center, nicknamed "The Water Cube" is made up of 4,000 Texlon® ETFE "bubbles" façade. The design is based on the Weaire–Phelan "water" structure geometry. These were based on the natural formation of bubbles, developed by slicing through soap foam. The "bubbles" come and in a variation of 15 different sizes, some as large as 9.14 meters in width. Arup's team came to the conclusion that bubbles would result in a unique geometric design, that was buildable and had an organic feel.
This prestigious project was done in partnership with the Head Contractor, China State Construction Engineering Corporation (CSCEC). Moreover, it's comprised by over 100,000 m2 of Texlon® ETFE foils, making this the largest ETFE structure in the world to date.
The Smart and Sustainable Solution for Sports and Aquatics
Texlon® ETFE is the best solution for all your architectural needs. In terms of reaching functional and innovative feats in all sectors and for all purposes. Beyond outstanding design options and sustainable structures, the Texlon® ETFE system possesses characteristics that make it a one-of-a-kind product. Therefore, elevating your projects to the next level.
In regards to Stadia, Sport and Leisure centers, Texlon® ETFE holds endless possibilities and architectural benefits. Its light-weight properties allow for incredible stadium roof designs, moveable and operable roofing structures and if so desired—a completely enclosed stadium with natural lighting. Furthermore, ETFE is an acoustically transparent cladding material which enables sound to disperse naturally indoors as it would outdoors.
Apart from technical features that provide light flooded and climate controlled interior spaces, Texlon® ETFE is the system of choice for many modern architects. Wide spans, unique shapes and a large variety of transparency options, give designers all the possibilities they could wish for.
Information
| | |
| --- | --- |
| Date | 2007 |
| Location | Beijing, China |
| Sector | Sport/Leisure |
| Size | 100,000 m² |
| Structure | Steel |
| Type | Roof & Facade, Roof, Facade |
| Architects | CSCEC & DESIGN, Arup Pty. Ltd, PTW Architects |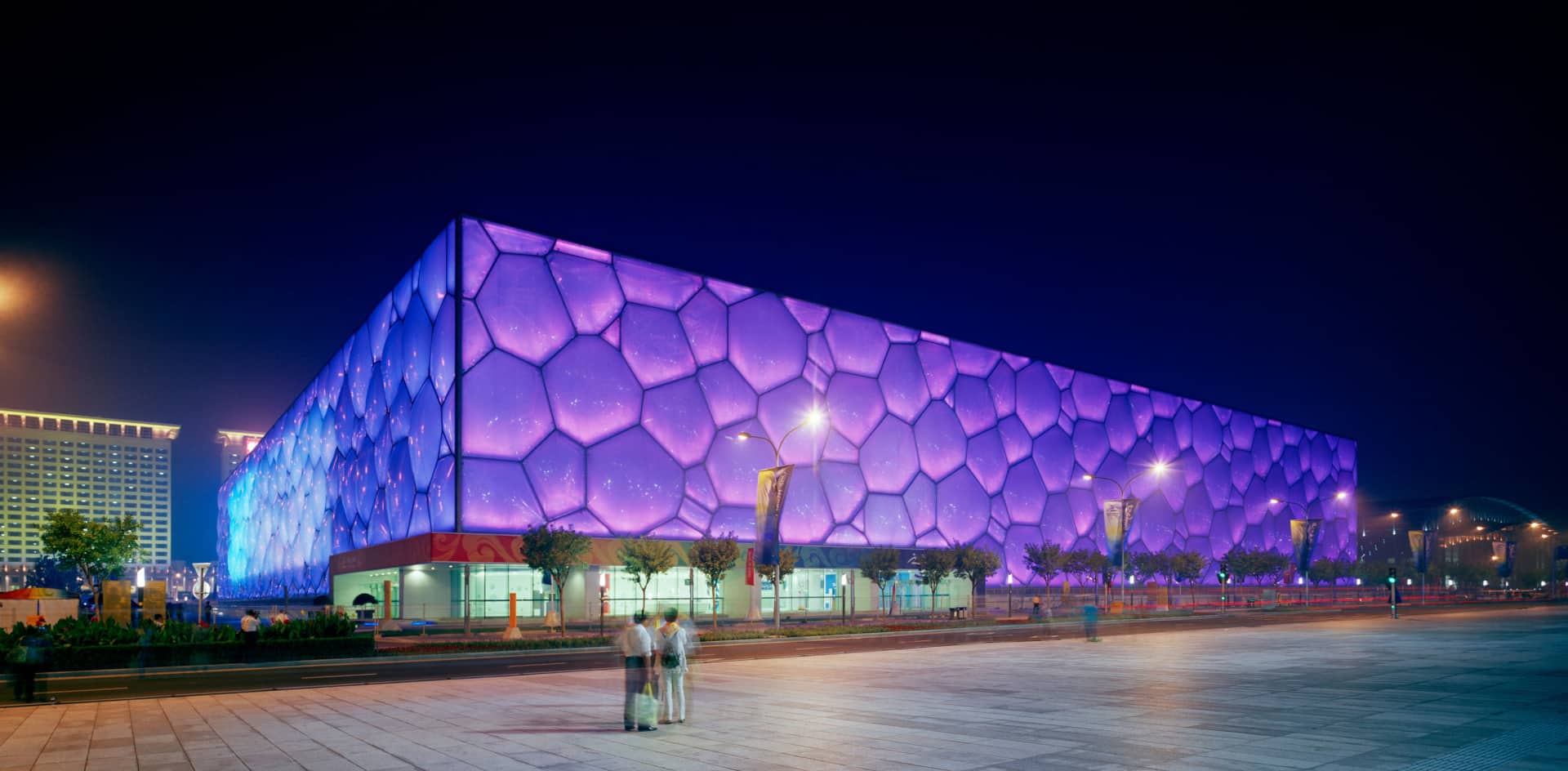 Image copyright (left to right, top to bottom): © Werner Huthmacher, © Werner Huthmacher, © Zhou Ruogu, © Werner Huthmacher
Experience and Sustainability in Creating Spaces
ETFE's lightweight property results in less need for supporting structures thus reducing material costs and consumption in building. Moreover, the longevity of ETFE and its reduced carbon footprint allow for sustainable building practices and eco-friendly solutions.
At the National Aquatics Center, up to 55% savings on energy costs can be achieved on a sunny day. Furthermore, 20% of the solar energy that falls on the building is absorbed and used to heat the swimming pools and interior. Moreover, to reduce energy consumption within the Water Cube, the design of the ETFE roofing and façade incorporated other energy recovery systems. For instance, using heat exhaust to warm up the interior during cold seasons.
The success of this project was largely due to 25 years of experience to this date. Vector Foiltec as a company goes further than just a complete in-house for all ETFE needs. Furthermore, we also have the unique ability to understand and prioritize the clients' needs and vision for the project. As a result, this holistic combination that we as a company aim to create.success.
Why Vector Foiltec?
Vector Foiltec is the world market leader when it comes to ETFE. Additionally, we do our very best to uphold our standards of quality and success, working around the clock worldwide to deliver results beyond our clients expectations. Accordingly, with 18 entities worldwide and two fabrication facilities, we are equipped for small and large-scale projects. Further, our complete and competent in-house team that provides all Texlon® ETFE services. These include; Design, Engineering, Fabrication, Installation and Maintenance.
Years of experience have helped us become experts in understanding what our clients want. Likewise, how we can deliver bold designs and smart solutions to all needs via the Texlon® ETFE system.
Let us support your project, contact us here for ETFE system solutions.