Strong, Lightweight and Transparent
Key to the Little Caesars Arena concept is the Via; the covered concourse area, between the arena and adjacent retail and office spaces on the eastern and southern sides of the venue. It is covered with Vector Foiltec's Texlon® ETFE system. A strong, lightweight and, importantly, transparent system which is also incredibly durable, with installations designed to last over 50 years. The Via visitors now feel like it is outdoors. This gives Detroiters a space in the winter that's like being outside. With a lot of our projects, the goal is to create a space that feels as though there isn't a roof. The Via concourse area is covered with over 4,045 m2 of Texlon® ETFE.
Vector Foiltec's Scope is Transparent
Vector Foiltec's Team designed, fabricated and installed the Texlon® ETFE system. The steel structure was designed and engineered in close collaboration with the client's team to allow for a sleek design that still copes with the harsh climatic environment with big snow loads. Three layers of transparent ETFE, form 64 foil cushions. The cushions are created with constant air flowing between the layers of ETFE which form two air chambers assisting with the insulation values of the enclosure. Some of these cushions measure up to 35 meters [115 feet] long; each of them unique and fabricated to fit.
Light Transmission Controlled
Transparent ETFE printed with a dot matrix print pattern on the outer layer of ETFE, therefore, solar heat gain and light transmission are controlled. But, you cannot see the print if you are standing on the ground. Additionally, with ETFE's lightweight properties less support structure was needed, so there is less structure hindering the view of the sky and allowing for more transparency.
Great Team
Vector Foiltec worked closely with a great team at Barton Malow Hunt White and other trades to makes sure the giant steel rafters and the large span Texlon® ETFE cushions fit smoothly and were well-coordinated with everyone working around or underneath the roof.
Little Caesars Arena received the prestigious Sports Facility of the Year award at the 2018 Sports Business Awards Ceremony.
Information
| | |
| --- | --- |
| Date | 2017 |
| Lieu | Detroit, MI, USA |
| Secteur | Sport/Leisure |
| Taille | 4,045 m² |
| Structure | Steel |
| Type | Roof |
| Architectes | HOK |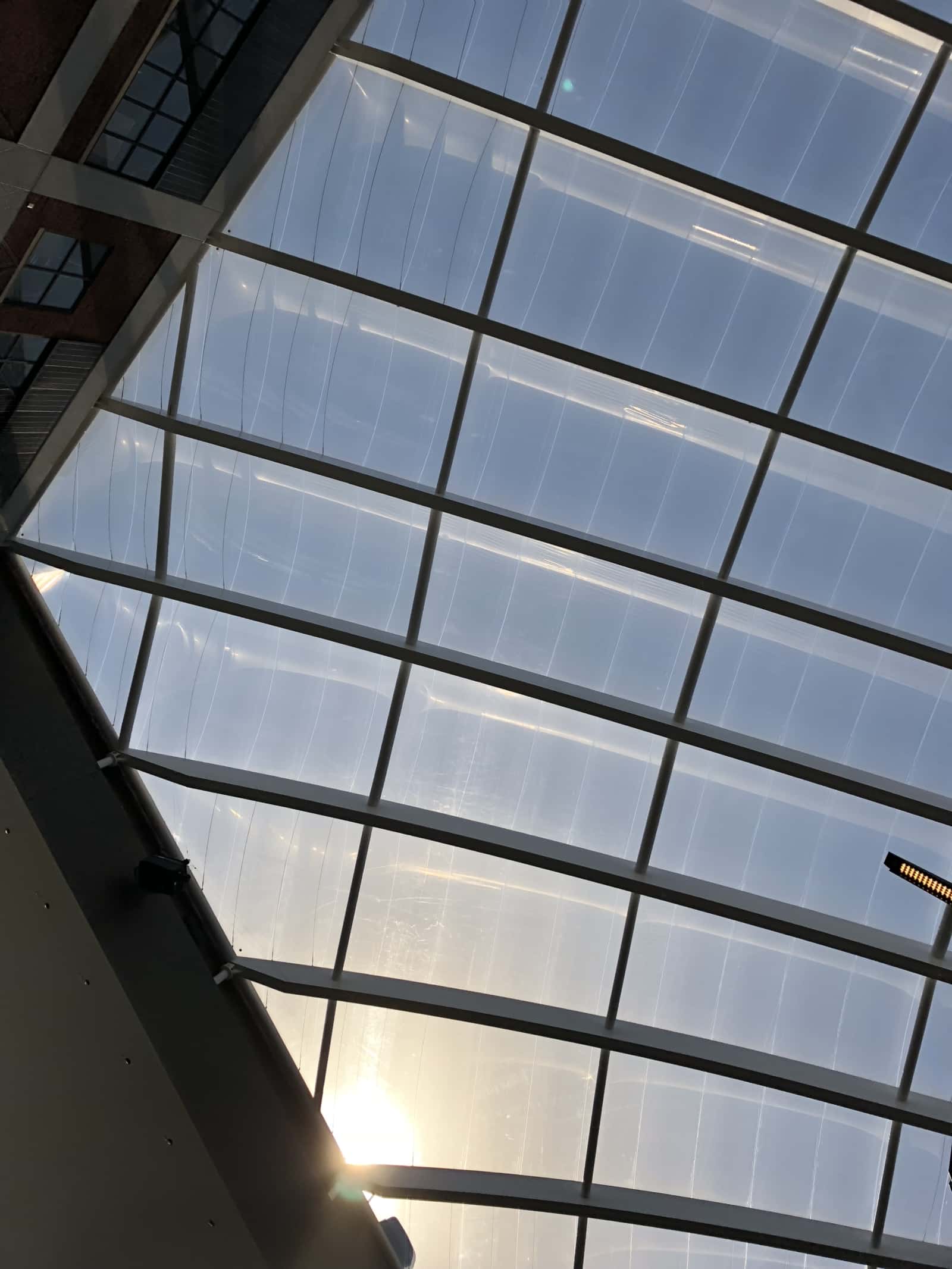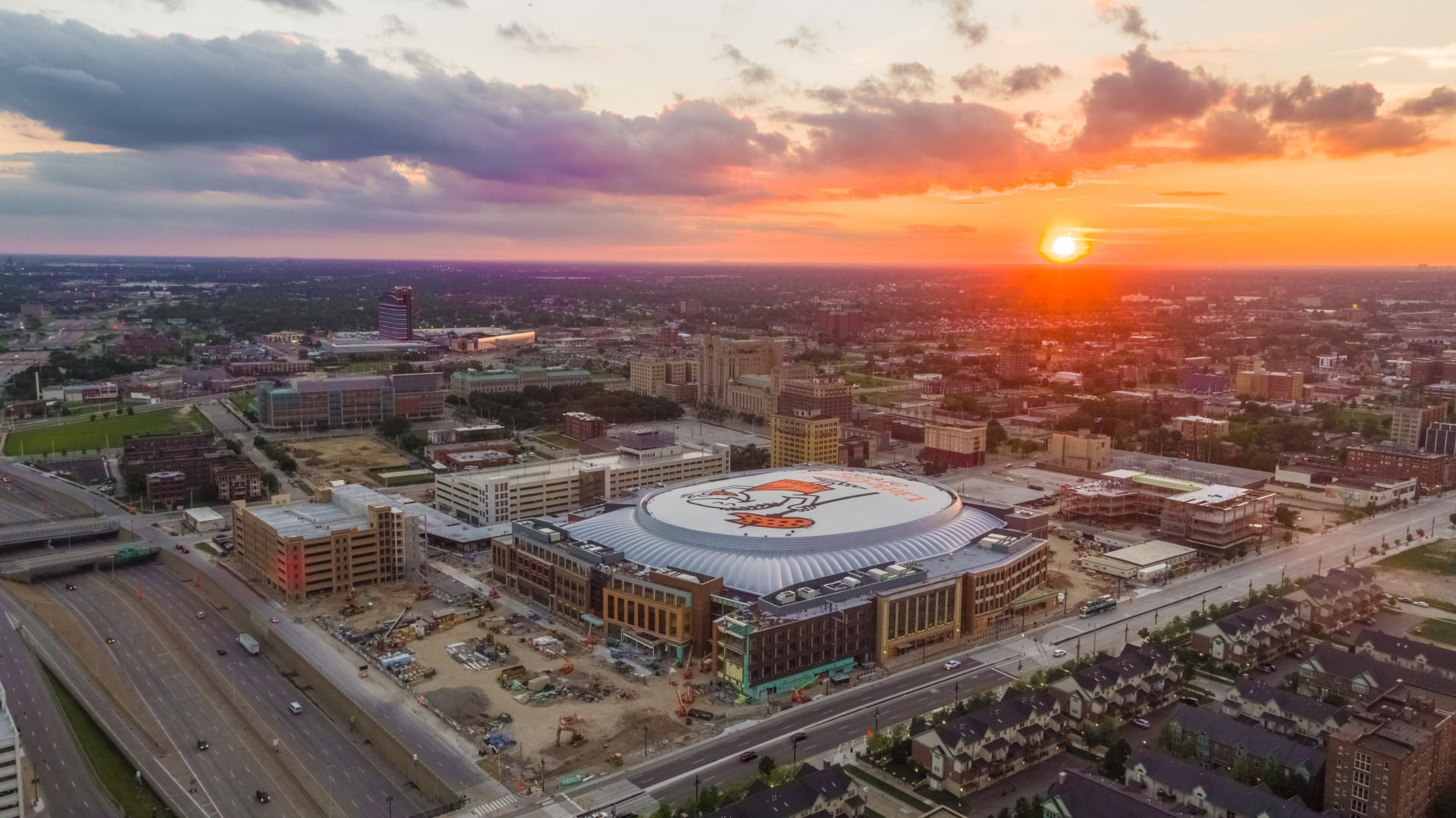 Main image and right bottom images Copyright Olympia Development of Michigan. Other images: Vector Foiltec.
Why Vector Foiltec
At Vector Foiltec we pride ourselves on being able to understand what our client needs and wants. Using our expertise and with qualified personnel located globally, Vector Foiltec aims to create. success. and deliver results beyond expectation to all our clients.
Let us support your project, contact us here for ETFE system solutions.