Exceptional Design
The shape of the Texlon® ETFE canopy at the Bus Station Aarau, Switzerland, has been compared to a lingering cloud. With a gap in the middle of the structure, the bus station design is both practical and visually dynamic. The canopy is supported with a steel frame and is formed of a single inflated Texlon® ETFE panel encompassing over 1,055m². The eye-catching print adds to the exceptional design as it was printed onto a blue ETFE foil.
The canopy acts as an environmental shield to protect visitors from wind and rain. In all, it protects visitors from the environmental elements and still ensures a bright area by using unique building materials.
ETFE is Unique
ETFE has been adapted for use in architecture, as well as design and construction industries. ETFE is unique in that it boasts exceptional longevity, is fully recyclable and does not degrade under ultra-violet light. Furthermore, the synthetic material is also self-cleansing, improving cost efficiency and reducing the carbon footprint of the structure. This makes ETFE a perfect material for canopies in transport sector – and many more!
Award-winning Design
Busbahnhof Aarau by Vehovar & Jauslin Architects together with the engineers from TL, have been received various awards. All in 2014, they received the "Award 2014 für Marketing und Architektur", were elected as winner in the category »Architecture > Public« and of the WAN Civic Buildings Award in the category "completed".
The bus station Aarau has an exciting construction process and the outcome is a landmark in architectural design, watch the video to get a better impression of this unique project.
Information
| | |
| --- | --- |
| Date | 2013 |
| Location | Aarau, Switzerland |
| Sector | Transport |
| Size | 1,055 m² |
| Structure | Steel |
| Type | Canopy |
| Architects | Vehovar & Jauslin Architektur AG |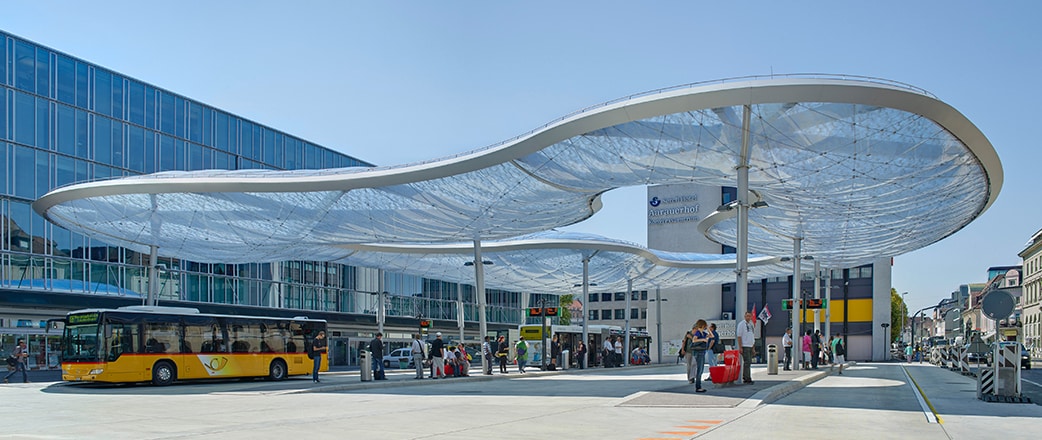 All images are copyright to © Fotodesign Andreas Braun, Hameln.
Impact of the Shape of Future Cities
Thanks to Vector Foiltec's design and engineering experience, the Texlon® ETFE system is an economic solution for your next project. Have an impact of the shape of our future cities. Let us create a footprint with Texlon® ETFE, contact us.