Stunning Water Attractions under Texlon® ETFE
The stunning Aqua Mundo waterpark at Les Trois Forêts is home to several water attractions, swimming pools with a water temperature of 29°C all year round and beaches. The stunning clover shaped steel structure where three roofs span 35 metres (in the core) met is clad with our Texlon® ETFE system. The covered area is 190 meter long and 12 meter high.
Texlon® ETFE Inflated Panels Allow Natural Tree Growth
The entire area is immersed in dense tropical greenery and the supporting steel structure needed to be high enough to accommodate tree growth. Our technical expertise contributed to the ecological success of this project. The Texlon® ETFE inflated panels allow natural light to stream into the mall, requiring less energy for additional lighting during daylight hours. The natural light provided by the expansive Texlon® ETFE roof dispenses a sun drenched atmosphere that encourages tropical foliage growth.
Saving on Energy Consumption
Further, ETFE is self-cleaning under the action of rain. And, the lightweight ETFE system offered the client tremendous advantages over traditional cladding systems in terms of energy savings, sound dispersion, lower structural costs and uninterrupted UV light transmission. These factors contribute towards a significant saving on energy consumption.
Waterpark with Wooden Structure
To sum up, the Aqua Mundo waterpark hall is comprised of three roofs spanning 35 metres. It houses 5,000 m² of water attractions, swimming pools and beaches immersed in dense tropical greenery. The structure is a clover-shaped cross covered in curves and blades of glue laminated timber; the units being large to allow for tree growth.
Do you plan waterparks? Contact us for a stunning architectural ETFE cladding.
Information
| | |
| --- | --- |
| Date | 2010 |
| Location | Hattigny, France |
| Sector | Aquatic, Botanic/Zoo |
| Size | 6,050 m² |
| Structure | Wood |
| Type | Roof |
| Architects | No Architect |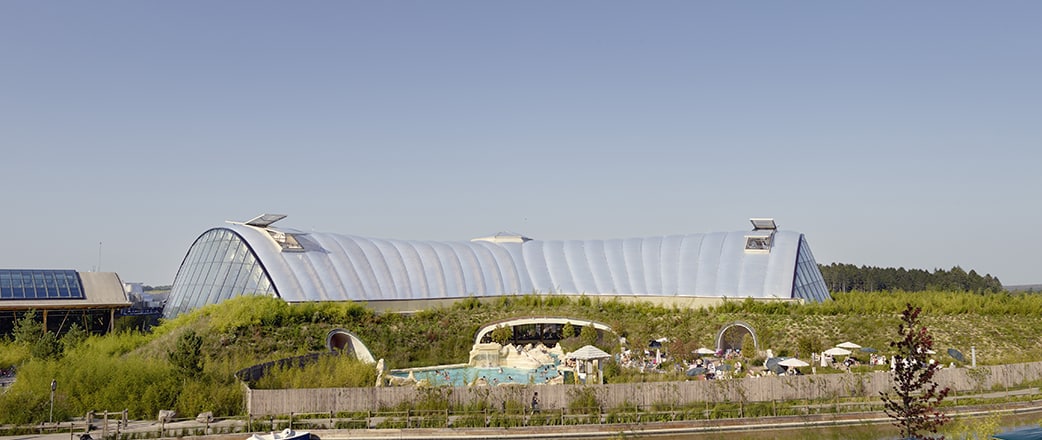 Images: Copyright Andreas Braun Hameln