A Railway Station Thoroughfare Covered with Texlon® ETFE
Gare Saint-Roch is the main railway station in Montpellier. It was built in 1844 and operates both national and international services. The station has been extended on several occasions to cope with the increase in rail traffic. The most expansion in 2014 involved the construction of a new building which comprises a large thoroughfare area with adjacent restaurants and shops. Vector Foiltec covered it with its Texlon® ETFE system and created a climate controlled area for all visitors. The station is designed by the well-known architects Arup.
Climate Control: Soften Sunlight in Summer with Texlon® ETFE
This thoroughfare is a 14.5 meters wide and 220 meters long area and is covered with Texlon® ETFE inflated panels. These panels are printed with a bespoke pattern designed to create subdued lighting. As a result, that reflects the clouds during the daytime and creating pleasant ambient temperatures for the building occupants. The Texlon® ETFE inflated panels (or cushions) soften sunlight in summer and help to minimize heat loss in winter. In short, this helps to control the climate inside the architectural building.
Explore the Many More Benefits of Texlon® ETFE
Contrary to what some people believe, we deliver much more than unique objects d'art controlling the climate. In fact, a summary of all the benefits of Vector Foiltec Texlon® ETFE solutions demonstrates how superior they are to most other options. So, whenever you are ready, give us a call.
Information
| | |
| --- | --- |
| Date | 2014 |
| Location | Montpellier, France |
| Sector | Transport |
| Size | 3,799 m² |
| Structure | Steel |
| Type | Roof |
| Architects | Arup |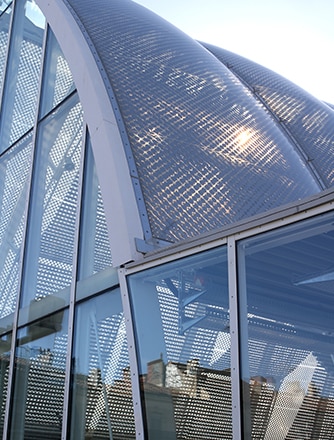 Main image © Cyril Montels and top images © Cyril Montels, bottom images © sabin paul croce.