ETFE Canopy – Protects You from the Elements
You are travelling to a meeting, it is pouring rain, and the taxi arrives at your destination, and you realize you forgot your umbrella. There is no chance to get out of the car without getting completely soaked. If only your meeting was at the headquarters of Airbus Defense and Space in Ottobrunn near Munich, Germany. When you pull up to the entrance here, the Texlon® ETFE canopy, by Vector Foiltec, protects you from the elements, while providing an open-air feeling. Your designer suede shoes will also be happy.
Dynamic Canopy Shape
The shape of the canopy has been compared to an iris. It is both very practical and visually dynamic. The Texlon® ETFE canopy is integrated into the existing headquarter office buildings, and does not add weight to the area, but underlines it.
Single Layer Texlon® ETFE System Illumination
In the evening, the white pigmented foil enhances the colours of the integrated LED illumination and highlights the office building.
The canopy's structure is built of a free-standing steel frame and the canopy is formed of a 375 m² single layer Texlon® ETFE system.
Unique Atmosphere for Your Next Project
Additional light or projected images are ways that ETFE can help create a unique atmosphere for any structure. It has properties that make it more flexible as a construction material, and as a medium for dynamic illumination. Do you want to set a highlight to your next architectural project? So, get in touch with us and let us find a solution for your next illuminated project!
Information
| | |
| --- | --- |
| Date | 2016 |
| Location | Ottobrunn, Germany |
| Sector | Offices |
| Size | 375 m² |
| Structure | Steel |
| Type | Canopy |
| Architects | KEC Planungsgesellschaft, Berlin |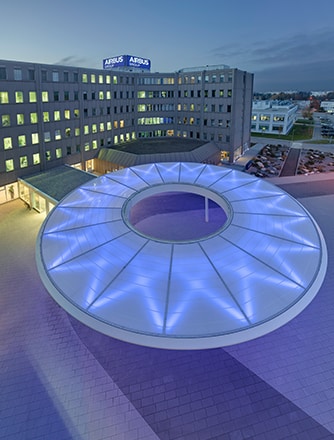 All images are Copyright © Fotodesign Andreas Braun, Hameln