Lightweight Design Allows Innovative Structures
This busy thoroughfare, with its retail outlets and restaurants, is set to positively transform the travel experience for thousands of commuters each day. Two parabolic, operable glass walls at the north and south ends, together with the curved translucent Texlon® ETFE roof, engineered and installed by Vector Foiltec, open the building up to the benign Californian climate. The lightweight design allowed for innovation in design.
The Anaheim Regional Transportation Intermodal Center (ARTIC) is an iconic gateway to a new era of transport options. ARTIC, the striking, arched transport hub that fulfils Orange County and the City of Anaheim's vision to encourage the use of public transportation, simultaneously alleviating highway congestion.
ARTIC sits in a pedestrian zone in central Anaheim and supports area-wide public transport and regional travel connections of all types, from bikes to bus and rail. "Inspiration came from great transportation terminals like Grand Central Station but ARTIC is one of a kind and iconic in terms of its vaulted shape," said Kazem Toossi, project architect and Senior Principal at HOK.
Generous Light Transmission – Sustainability is Key
The Texlon® cladding incorporates a frit that allows for generous light transmission into the building, while maintaining optimal solar control and perfect ambient temperatures. LED lights were added to the steel upstands below the ETFE to accentuate the diamond shape of the panels, making ARTIC equally recognizable and iconic at night. The lightweight elegant diagrid structure, with it diamond shaped panels meant that substantial savings could be made in the steel tonnage, which resulted in cost savings and environmental benefits. The design of the building was based on sustainability, efficiency, quality, and is the first LEED® platinum transit station in the world.
Award for "Distinction in Innovation"
Vector Foiltec won the category "Distinction in Innovation" award at the Energy Efficiency Awards 2019 – German Innovation in U.S. Buildings.
Information
| | |
| --- | --- |
| Date | 2014 |
| Location | Anaheim, CA, USA |
| Sector | Transport |
| Size | 5,757 m² |
| Structure | Steel |
| Type | Roof & Facade, Roof, Facade |
| Architects | HOK International |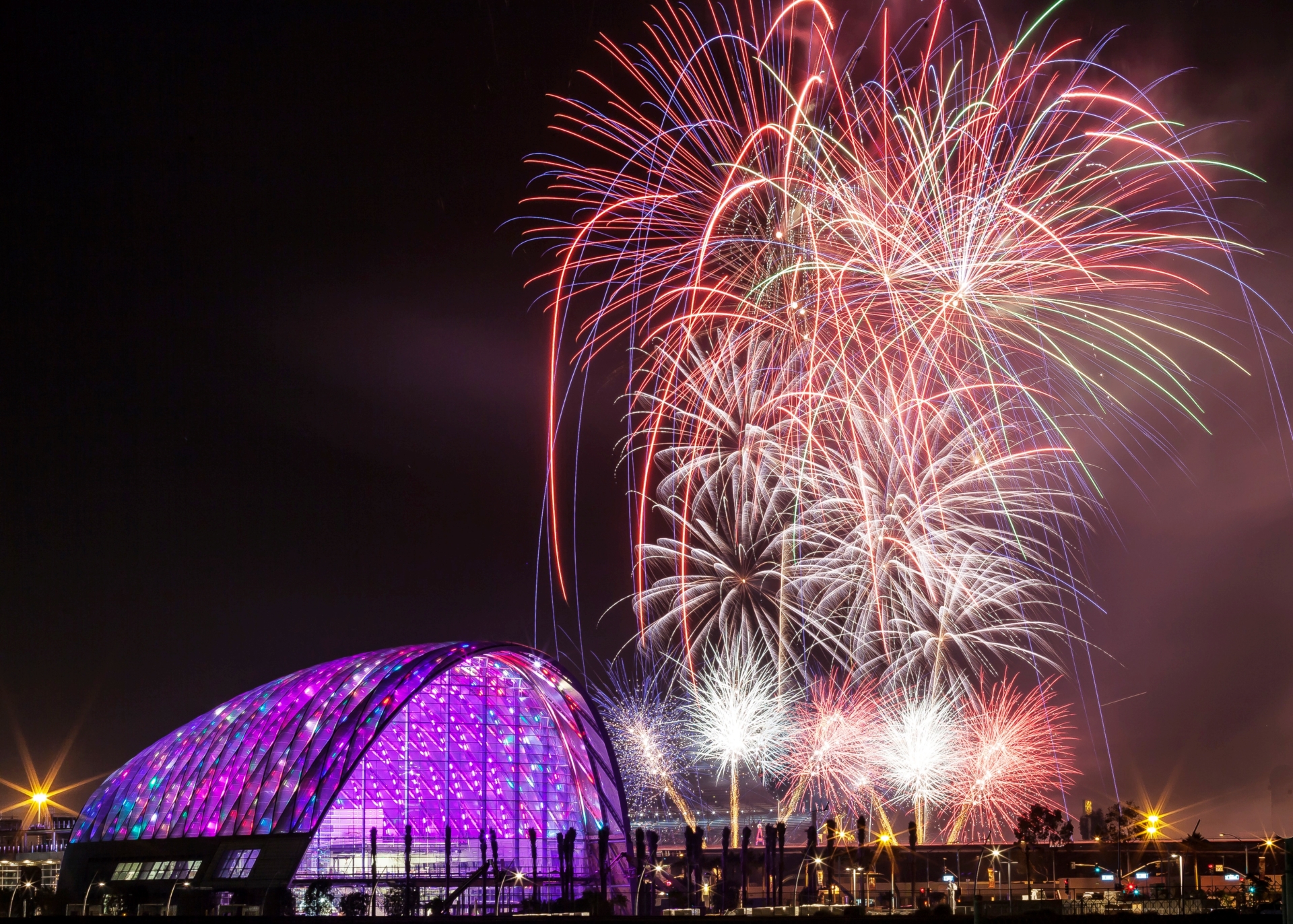 Images Copyright John Linden
Awards
And it is amazing how many awards this impressive building already received…
Associated General Contractors of America – Alliant Build America Award, Building New $10M to $199M
California Transportation Foundation this spring. ARTIC was named 'Rail/Transit Project of the Year'
AIA Los Angeles – Design Awards, Citation
World Architecture News (WAN) – Transport Award
AIA Orange County Chapter – Honor Award, Commercial Built
ENR California – Best Project, Airport Transit
American Public Works Association (APWA) – 2015 Public Works Project of the Year
American Institute of Steel Construction – Innovative Design in Engineering and Architecture with Structural Steel Award
ASCE Orange County Chapter – Project of the Year + Structural Engineering Project of the Year
American Institute of Architects (AIA) Technology in Architectural Practice Building Information Model Awards – Stellar Architecture Using BIM
AIA San Fernando Valley Chapter – Design Award
AIA Orange County Chapter – Design Award, Honorable Mention
United States Green Building Council – Eco City Award
Southern California Association of Governments (SCAG) – Recognition Award for Sustained Leadership
Golden Nugget Award – Outstanding On-The-Boards Site Plan
World Architecture News – Transportation Award Finalist
Why Vector Foiltec?
As world market leader, Vector Foiltec has comprehensive understanding of Texlon® ETFE and all ETFE systems. Similarly, with our complete in-house team, Vector Foiltec offers the full range of services from Design, Engineering, Fabrication, Installation and Maintenance of all ETFE projects worldwide. Moreover, with two of the largest fabrication sites in the world, we are equipped for small and large-scale projects for all focuses. Our competent in-house teams are experts in understanding the needs and wants of the client and reaching those demands with efficiency worldwide.
Let us support your project, contact us here for ETFE system solutions.