Controlled Climate
The lightweight Texlon® ETFE panels that drape elegantly over the glulam secondary support structure create the best controlled climate for indoor waterpark fun all year round. Visitors to the new Aquatopia Indoor Waterpark at Camelback Resort are in for a unique experience. Texlon® ETFE was selected as the perfect technology for this project. It fulfilled the creative ideas envisioned by the client, as well as the high structural and thermal requirements for an enclosed water park located in the mountains. This indoor waterpark is one of the largest in the Northeast, and is also one of the most innovative.
Optimal Solar Control
The Texlon® ETFE cladding incorporates a special frit that allows generous light transmission into the building, while maintaining optimal solar control and perfectly controlled climate all year round. It gives water park goers the feeling they are outdoors. In addition to solar control, the high amount of light transmission being transferred into the building, allows for a reduction in artificial lighting requirements.
Lightweight with Versatility
This building highlights the versatility of the Texlon® ETFE technology that is often associated with large projects, such as the Baku Olympic stadium. Vector Foiltec addressed design, foil engineering, fabrication and construction of the translucent Texlon® ETFE enclosure covering 5100 m². We used BIM and 3D modelling to make the supporting structures required to contain the Texlon® ETFE cushions as light as possible. Despite relatively high snow and water loads present on the site, Vector Foiltec's skillful engineering enabled optimization of design to alleviate ponding issues. The substantial savings in structure tonnage achieved during this design process resulted in cost savings and environmental benefits.
Benefit from our experience and contact us now, click here to find the contact in your region.
Check out this link for the extraordinary illumination at night
Information
| | |
| --- | --- |
| Date | 2015 |
| Location | Tannersville, PA, USA |
| Sector | Aquatic |
| Size | 5,045 m² |
| Structure | Steel and Glulam |
| Type | Roof |
| Architects | ADCI |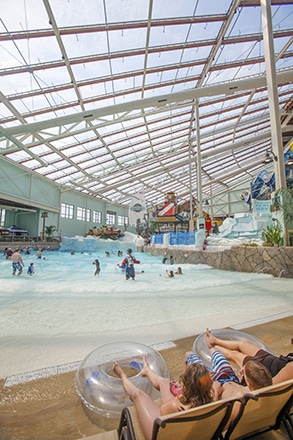 Images: Aquatic Development Group (ADG)
Click here for more examples of indoor water parks covered with ETFE…