A Texlon® ETFE Covered Car Park in Bremen
The Bremen district Überseestadt is growing, and we could not miss out on the opportunity to accompany this development with a Texlon® ETFE facade system. After all, it is in our hometown, a covered car park's facade with nearly 1,200 m² of ETFE.
Pigmented and Printed ETFE Facade
To avoid distraction by the cars' headlights, the ETFE foil has white pigments in the lower area, and to continue the design, it is printed with white dots in the higher sections. As a result, the print makes it possible to illuminate the facade at night. About 300 parking spaces are protected from the environment by the single-layer ETFE system while letting in daylight.
We were involved in the system design, and produced, delivered, and installed the 14 Texlon® ETFE panels. All panels are strengthened with horizontal cables to withstand loads.
If you are in Bremen visit the car park, click here to go to the Google Maps link.
We Offer End-products of High Quality
Our final products retain a high level of variability, but the underlying processes are standard. We can quickly find ways to optimize buildings on time and within budget. This often leads to real pragmatic "short-cuts" in many business segments e.g. efficient skylights in retail, canopies for car dealers, ETFE facades for car parks, etc.
Whatever the challenge, you can rely on our flexibility, pragmatism, and a range of standardized solutions. To clarify, there is another big plus too: nobody will know you went for a standardized solution. Give us a call when you are ready!
Information
| | |
| --- | --- |
| Date | 2018 |
| Location | Bremen, Germany |
| Sector | Transport |
| Size | 1,200 m² |
| Structure | Steel |
| Type | Facade |
| Architects | GILDEHAUS LANKENAU Architekten BDA |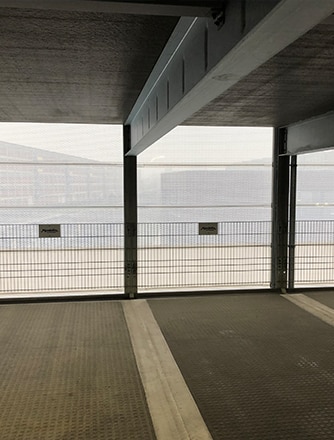 All images Copyright Vector Foiltec.