Office Building with Texlon® ETFE
Festo is a technology industry leader for pneumatic control systems and power tools. The designer of their headquarters in Esslingen, Architect Ulrich Jaschek, collaborated with Festo to create a building that displayed the company's technology driven and ecologically sensitive design approach.
Variable Shading System
The architect designed six finger-like buildings that are connected by a central spine that serves as the foyer area. Three of these spaces are covered with Vector Foiltec's Texlon® ETFE variable shading system – Vario® – transforming them into dynamic multi-function atrium spaces. Jaschek envisioned a lightweight, transparent roof that is climatically responsive. The Texlon® ETFE inflated panels span the barrel vaulted structure over distances varying between 13 m and 21 m. The integrated shading system minimises solar gain enabling the atria to be temperature controlled without the need for mechanical cooling systems.
The Texlon® ETFE shading system responds to climate conditions and to the occupants' needs, providing pneumatically operated variable shading. The foils are printed with a striking checkerboard pattern – the inside of the upper layer is printed with a positive pattern and the middle foil with a negative pattern. By pneumatically adjusting the position of the middle layer (to either the top or the bottom of the system), the transparency and the insulating value of the roof can be altered.
The structural system, consisting of small diameter steel hollow sections and interior cables that support the suction loads associated with the roof and the integrated glass end the wall facade.
Contact us
Texlon® ETFE is an impressive architectural building material. Contact us for more information about building envelopes with Texlon® ETFE.
Information
| | |
| --- | --- |
| Date | 2000 |
| Location | Esslingen, Germany |
| Sector | Offices |
| Size | 2,655 m² |
| Structure | Steel/Cable |
| Type | Roof |
| Architects | Architekturbüro Jaschek |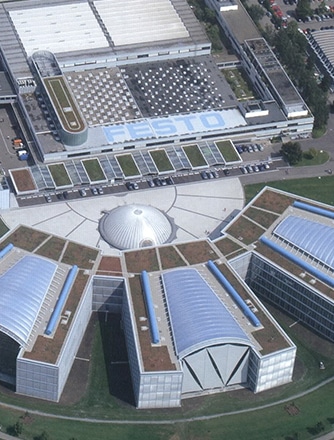 Images Copyright: Andreas Braun Hameln.