Victoria Station Renovation with Texlon® ETFE
The Manchester Victoria Station is a historically important station. It is known for having the largest roofing since 1844. The Station is the most important railway and transit connection point in northern England. Although it was famous for its large roof, Victoria Station began to fall behind on modern times and was scheduled for renovation in 2014.
ETFE Renovation Plans
The renovation plans outline some major transformations, including the demolition and replacement of the existing roof with a stunning ETFE roofing system. That allows space expansion for stores and better access from the station to neighboring Manchester Arena. Further, other areas of the Victoria Station underwent smaller renovations and refurbishments to match the modernization of the roofing system.
The Victoria Station Texlon® ETFE roofing system consists of 8,500 m² of ETFE cushions. This project was completed through cooperation between Morgan Sandall as the general contractor, Hyder Consulting in charge of design and building processes and Vector Foiltec Texlon® ETFE systems.
Why Texlon® ETFE
The Victoria Station roof renovation project modernized and rejuvenated the northern transit hub. The ETFE roofing system created a spacious atmosphere filled with bright natural lighting. It brings lightness to the air and improving daily commuters' user experience and increased overall customer capacity. Further, the structural engineering and design of the new roofing system served as an efficient step towards local and regional railway transit development. Furthermore, it complimented the Victoria Stations' historically significant facade. Watch this video by Network Rail on youtube.
Building with ETFE is fast, efficient and cost effective not only in refurbishment projects. Building with ETFE is the smart solution to any architectural and design concepts that may be otherwise be deemed impossible. ETFE material durability, flexibility and its light-weight nature allow for roofing and facade systems to be designed not only for practical efficiency but also bold aesthetics that tell a story.
Information
| | |
| --- | --- |
| Date | 2014 |
| Location | Manchester, United Kingdom |
| Sector | Transport |
| Size | 2,500 m² |
| Structure | Steel |
| Type | Roof and Facade |
| Architects | Building Design Partnership |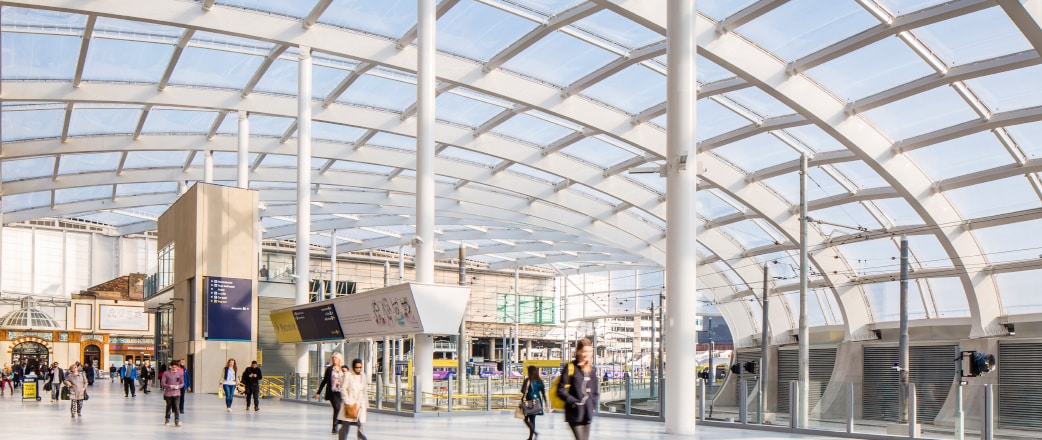 All images Copyright © Sam Peach
Why Vector Foiltec
Our core competency is Texlon® ETFE and we know it best. However, what makes us the world market leader is our understanding of the clients' needs and expectations. In order to Create.Success. Vector Foiltec goes further with a fully equipped in-house team dedicated to providing smart solutions.
We provide service such as; design, engineering, fabrication, installation and maintenance of all ETFE systems and projects, e.g. renovation projects. Vector Foiltec has a global presence with entities in 18 countries and over 250 employees worldwide. Top-to-bottom or left-to-right, Vector Foiltec is the only one-stop-shop for all ETFE needs.
If you would like to view similar projects click here and if you like to contact us click here.