First Texlon® ETFE Project in South Africa
An award winning addition to the Johannesburg skyline, Sandton City is the first project in South Africa to utilize Texlon® ETFE technology. Sandton City's prolific expansion is amongst the most environmentally conscious projects in South Africa and demonstrates the revolutionary capabilities of Texlon® ETFE. Sandton City is a shopping center in Sandton, part of the city Johannesburg, South Africa. Originally build in the 1970s, it has been redeveloped in 2011, and again became an iconic destination for Johannesburg.
Different ETFE foils combined
Designed by RTKL in the United Kingdom and implemented by MDS Architecture in South Africa, the striking Protea Court roof consists of white, clear and fritted Texlon® ETFE cushions. The cushions are permanently inflated, ensuring wind resistance and insulation, and restrained within profiled aluminium extrusions which curve to the contour of the steelwork. Further, the different foils allow to illuminate the roof with different colours provided by LED lights. That creates an iconic roof even at night.
Solar Shading
Combining bold, elegant design and innovative technology, the domed Protea Court roof optimises solar shading and light transmission in its use of multiple layers of Texlon® ETFE foil. The roof, 44 meters in diameter and sloped at 11 degrees, is covered by 1,537 m² of our system. A recyclable, self cleansing and low carbon alternative to glass, Texlon® ETFE was selected for its outstanding environmental characteristics.
We pride ourselves on being the first Texlon® ETFE manufacturer with an independently verified Environmental Product Declaration (EPD) in accordance with ISO 14025:2006 and EN15804. An EPD is a voluntary document, focusing on the environmental impacts associated with the manufacturing of a product or system, and demonstrates that a product has been subjected to rigorous testing to ensure quality.
Contact us for help on your next award winning project!
Information
| | |
| --- | --- |
| Date | 2011 |
| Location | Sandton, Johannesburg, South Africa |
| Sector | Retail |
| Size | 1,537 m² |
| Structure | Steel |
| Type | Roof |
| Architects | CallisonRTKL and MDS Architecture |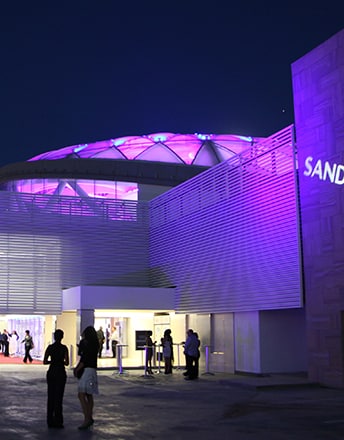 Image Copyrights: WBHO (main image), left to right, top to bottom: WBHO, Liberty Property, WBHO, Liberty Property.