Transmission of All Wavelengths of Visible Light Through the ETFE Dome
This addition to Auckland Zoo is known as the 'Swamp Forest'. It is a special habitat for Tomistoma – a species of freshwater crocodile, which are native to Southeast Asia. They are currently classified as vulnerable, therefore action is required now to help protect their future.
The 30 m diameter Texlon® ETFE dome was the perfect choice for the 'Swamp Forest'. Firstly, it maximizes the thermal efficiency for the habitat. Therefore, it ensures that the crocodile – and their accompanying fauna – are kept at their ideal temperatures. Secondly, ETFE permits the transmission of all wavelengths of visible light – UV light included. As a result, the animals and plants receive all the light they need to thrive. Additionally, the UV-light helps to kill fungi within the enclosed building.
Independently Controllable Texlon® ETFE Vents
The dome features 4 independently controllable Texlon® ETFE vents. They are located at the apex, and serve a dual function. The vents help to provide natural ventilation when required. Further, they act as smoke exhausts in the unlikely event of a fire.
Teamwork Makes the Dream Work
Vector Foiltec worked closely with the project architects, structural engineers, the zoo and the head contractor. The close partnership ensured the successful realization of the project. Our work included everything – from the initial geometry to coordinating the services. In conclusion, the teamwork with our partners guaranteed the functionality of the exhibit.
Challenges? We Solved Them.
Completing this project during the global pandemic was extraordinarily challenging. However, the Vector Foiltec team rose to the challenge. We coordinated extensively with the head contractor to ensure a high quality and hugely successful build!
Contact us. We deliver.
Information
| | |
| --- | --- |
| Date | 2021 |
| Location | Auckland, New Zealand |
| Sector | Botanic/Zoo |
| Size | 600 m² |
| Structure | Steel |
| Type | Roof |
| Architects | Studio Hansen Roberts, Ignite Architects |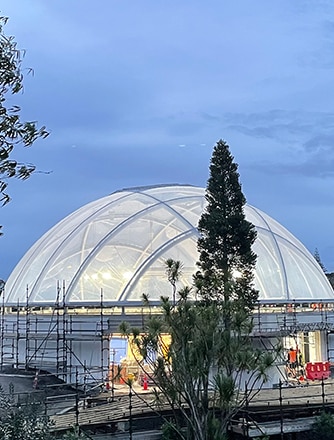 Images Copyright: Vector Foiltec