Lightweight: Smart Solutions for Sustainable and Iconic Design Concepts
The Avenues is a year round entertainment and shopping center located in Kuwait. Since 2017 it is sheltered under 74,500 m² of lightweight Texlon® ETFE. Moreover, it is the largest shopping and entertainment complex in Kuwait, with over 1,100 stores and parking space for over 14,000 cars. Mabanee (Al Rai Real Estate Company), working in collaboration with Gensler and Pace, commissioned The Avenues to us.
Solutions for Climate Control Strategies
Our Texlon® ETFE system provides a relaxed sanctuary in a harsh climate. Initially, only 25,061 m² of Texlon® ETFE was installed above The Avenues Mall. Consequently, bringing the outside indoors with specialized ink and print patterns developed for this project. Further, the ink and print patterns ensure optimal reduction of solar transmission and temperature control. This was done to meet the clients' efforts to welcome shoppers in a controlled and comfortable environment while creating a feeling of being outdoors.
Information
| | |
| --- | --- |
| Date | 2018 |
| Location | Kuwait City, Kuwait |
| Sector | Retail |
| Size | 74,500 m² |
| Structure | Steel |
| Type | Roof |
| Architects | Gensler |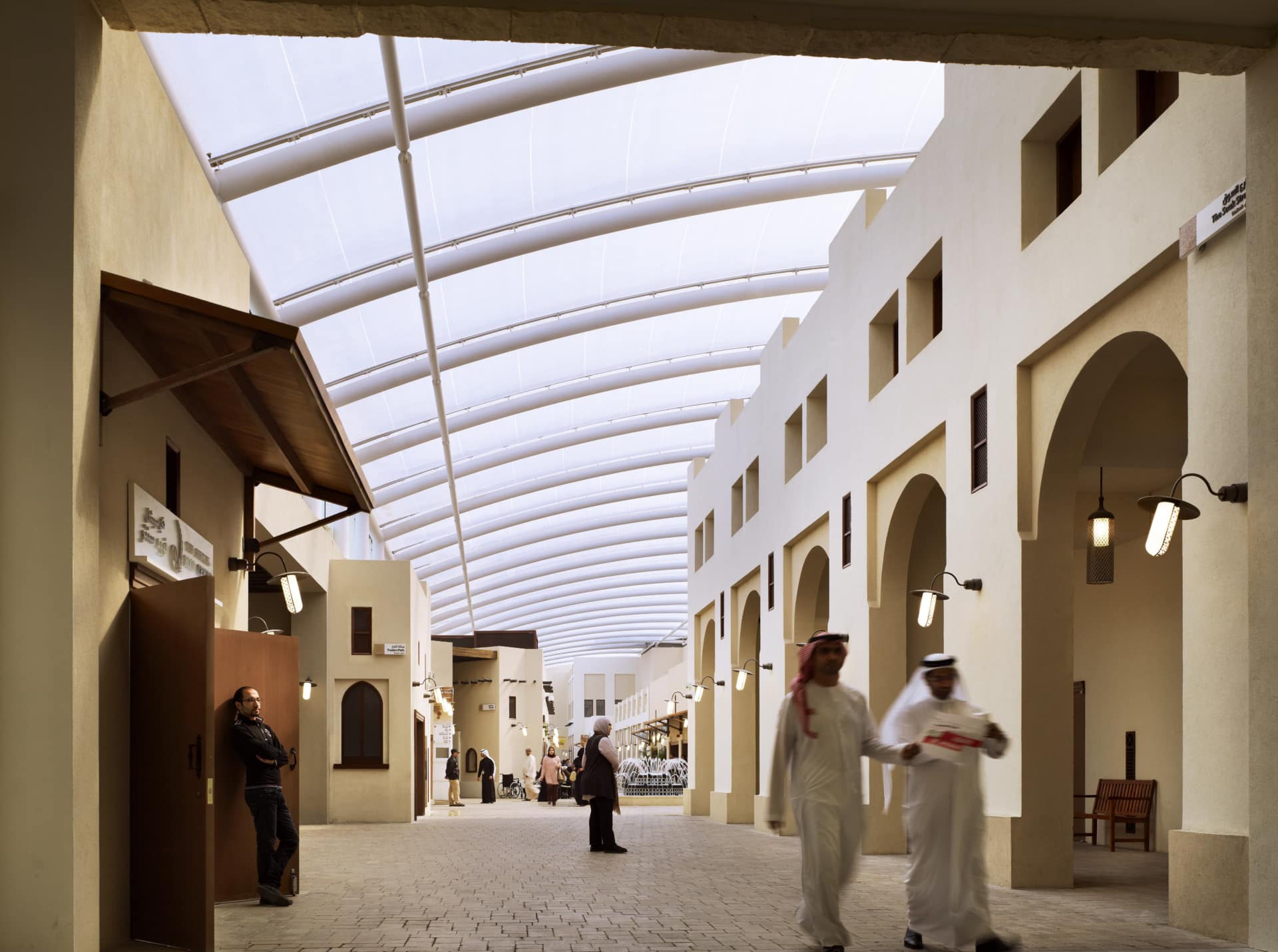 Image copyright (left to right, top to bottom): © Nick Merrick of Hedrich Blessing, © Nick Merrick of Hedrich Blessing,© Nick Merrick of Hedrich Blessing
The Lakes Texlon® ETFE Extension
Vector Foiltec was originally contracted to do just one extension of The Avenues Mall. However, our efficiency in installation and the lightweight Texlon® ETFE system, impressed our clients. Therefore, we were commissioned to do a second extension. The Lakes sums to 6,886 m² of Texlon® ETFE roofing. Moreover, it consists of 227 triangular shaped cushions, some as large as 6 meters in width, in a complex geometric arrangement. A combination of white and printed ETFE foils were particularly important in being able to create ambient comfort in temperature and lighting, like a natural outdoor experience. The supporting steelwork structure was built at a fraction of the cost compared to a glazed alternative.
Phase 4/4b Texlon® ETFE Extension
Our experience and dedication towards achieving excellence in ETFE resulted in yet another request to extend The Avenues' ETFE roofing system. Therefore, this most recent extension of 42,000 m² provides a beautiful and lightweight coverage over The Arcade, The Grand Plaza, The Forum, The Gardens, The Cinema and Electra districts. Click here to go to the detail project page.
In other words: The Avenues is setting a new precedent in modern Arab architecture and contemporary building.
Experience and Sustainability in Creating Lightweight Spaces
The longevity of ETFE and its reduced carbon footprint allow for sustainable building practices and therefore eco-friendly solutions. Moreover, to ETFE's lightweight properties there is less need for supporting structures. Furthermore, this reduces material costs and consumption in building.
The success of this project was largely due to over 35 years of experience in service. Vector Foiltec as a company goes further than just a complete in-house for all ETFE needs. We have the unique ability to understand and prioritize the clients' needs and vision for the project. It is through this holistic combination that we as a company aim to create.success.
Let us support your project, contact us here for Texlon® ETFE system solutions.