Light-flooded Roof Solution
Tyfonen Studio, located in Malmö, Sweden, is a multi-purpose building. As a residential house, combined with offices and conference rooms, it even features rooms to use for theater, concerts, movie filming and pop-up exhibitions. These different disciplines find their dynamic hub in an atrium covered with Vector Foiltec's Texlon® ETFE cushion system. It gives you a warm welcome right after stepping into the building. Our system creates a light-flooded, low maintenance atrium roof.
Engineering Texlon® ETFE
Our ETFE cushions are extremely well insulated and can be adjusted for every desired level of light transmission. The outcome of the engineering process for Tyfonen Studio is a rectangular cushion roof comprised of ten 4-layered Texlon® ETFE foil cushions, steel beams. We designed, produced, and installed the steel construction for the Texlon® ETFE system. Further, the upper ETFE foil layer of the 450 m² atrium roof is printed with a silver dot matrix to control solar transmission.
Sustainability: Tyfonen Property Block LEED Certified
The Tyfonen property block is certified according to LEED level Platinum. It was awarded "LEED project of the year 2018" by Sweden Green Building Council. The sustainability of the Texlon® ETFE cladding material helped to receive the LEED certification.
Are you looking for a light flooded roof solution for your office building, that is also low maintenance? How about a Texlon® ETFE roof? Our roof systems let the outside in: ETFE is not only highly transparent; it also offers acoustic comfort and an astonishing longevity. Due to the lightweight foils there is no need for columns and wider spans are possible.
Contact us if you need further help creating your next sustainable, light-flooded roof solution.
Information
| | |
| --- | --- |
| Date | 2015 |
| Location | Malmö, Sweden |
| Sector | Offices |
| Size | 450 m² |
| Structure | Steel |
| Type | Roof |
| Architects | TEMA |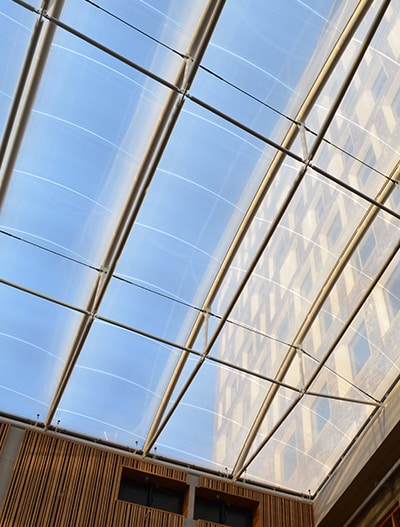 Images Copyright: Vector Foiltec.