Chanel Touring Pavilion
Chanel Touring Pavilion traveled the world from 2008 to 2010, using as little material as possible. The
pavilion visited Hong Kong, Tokyo, New York and found its permanent home in Paris. It was designed by the famous architect Zaha Hadid. It can be assembled and dismantled in only three weeks. 195 m² of Vector Foiltec's Texlon® ETFE skylights were always part of the journey. The upper foils of the ETFE cushions are printed with a silver dot matrix to provide solar shading.
In 2011, Chanel donated the exhibition pavilion to the Institut du Monde Arabe in Paris, which is where it remains today.
From Visions to Reality
Our job is to facilitate your ideas, provide you with peace of mind, and generally to make things happen. Interested in new possibilities with the architectural cladding material ETFE? Contact us!
Information
| | |
| --- | --- |
| Date | 2008 |
| Location | Paris, France (Hong Kong, Tokyo, New York) |
| Sector | Cultural/Exhibition |
| Size | 195 m² |
| Structure | Steel |
| Type | Skylights |
| Architects | Zaha Hadid Architects, London |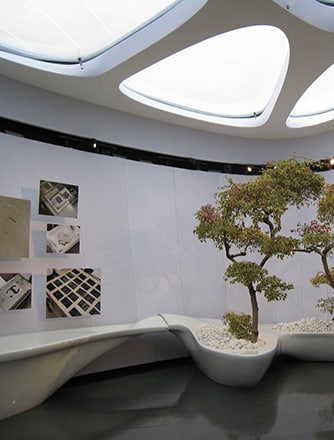 Images Copyright © Piers Shepperd